Yahoo! Will Broadcast Bill Clinton's Music Concert over live streaming

Former President of USA, Bill Clinton, will held a music concert and also charity concert on October 15th 2011 in Hollywood Bowl, Los Angeles – USA. There will be a series of high class musicians, let say Lady Gaga, Usher, and Bono + The Edge (U2 band member). The most interesting is that Yahoo! Will broadcast the live show over the Live Streaming.
This absolutely is a good news for you who are outside USA and are not be able to come over to the show. This surely will attract worldwide internet user's attention , regarding Yahoo! as one of the biggest website who is exclusively support the show.
"it's an honor for us, Yahoo!, to support William J. Clinton Foundation, and to be the part of the special moment", said Ross Levinson (EVP Americas, Yahoo!).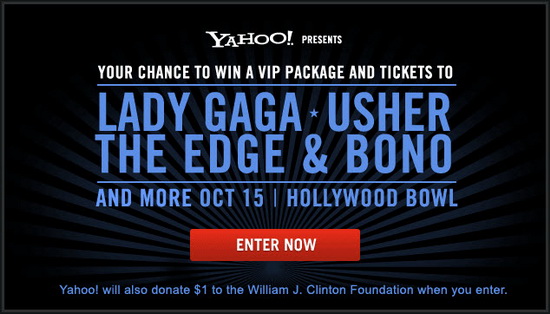 So for you guys who are outside USA and want to watch live the show, you can watch it on this address: http://clintonconcert.yahoo.com on October 15th 2011, 22.00 Eastern Time.