Yahoo Messenger 11.5 – Offline Installer
Yahoo has released their newest instant Messaging application by presenting Yahoo! Messenger 11.5.0.152. The new released Yahoo Messenger 11.5 has a better versions then the older version. On Yahoo Messenger 11.5 now YM users can chat with multiple friends with only one windows because the newly add Tabbed IM feature Is available. Of course this feature is really wanted by Yahoo Messenger users on Windows, because previously this feature is only available on Mac
Yahoo Messenger 11.5.0.152 has also had increased performance in managing Spam. You can ignore multiple unknown friend requests by only one click. You also can play games with friends or family directly with application Yahoo Messenger. There are also feature "Easy Access to Recent Contacts", this feature is really useful for you who have many list of contact in your messenger, because every time we close the last chat, the list will appear in the topmost of the contact list which will make it easier for us to reconnect with them.
Since Yahoo Messenger 11, every chat in YM will be saved in the archive on Yahoo! Server, and on version 11.5, the access to the archive will have a better interface and will be easier with the separation in form of contact categories. In version 11.5 there also feature "Snap and Share" where we can share Print Screen or take snapshot from our monitor directly from Yahoo Messenger application.

The other interesting things is the increasing numbers of new emoticons or smilies, on Yahoo! Messenger 11.5.0.152 all emoticons will be shown, including the hidden smilies. All emoticons or smilies can be easily selected directly from Yahoo Messenger Application when we're chatting with friends

What's new in Yahoo! Messenger 11.5.0.152 :
Tabbed IMs : One of the most highly sought after features! We heard you loud and clear that being able to effectively organize and manage your conversations is important. No more clutter or juggling – with tabbed IMs, you get to chat with all your friends from one easy and convenient window.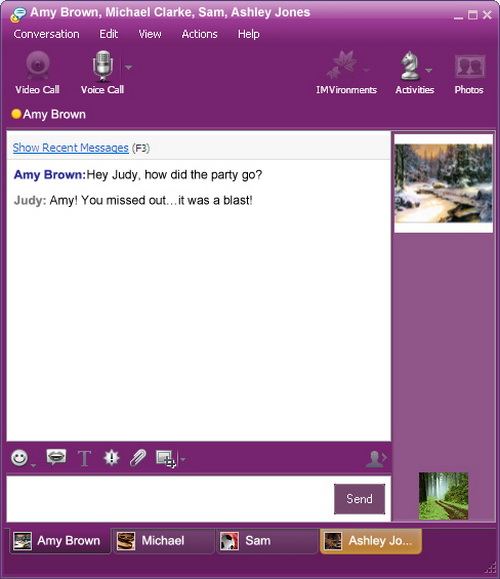 Improved Spam Management : We hate spam as much as you do, and our battle against it is an ongoing one. If you have been receiving invitations from random strangers, you can now ignore multiple add requests with a single click.
New Social Games : Level up on how you are keeping in touch with your friends and family. With over 70 exciting games such as Backyard Monsters, Township and ourWorld, Yahoo! Messenger lets you chat and play games with friends at the same time! Get your friends involved by sharing your game activities and play-status so that friends can join your game and you can join theirs.
Easy Access to Recent Contacts : You may have over a hundred Messenger friends, but most of us chat with only a handful – and usually the same handful – on a regular basis. Your recent contacts now appear at the top of your contact list, so it's quick and easy to reach out to your regular IM friends.
Smart Archiving : Looking up an old IM conversation has never been easier. Your chat history is now categorized by friends, with your most recent conversations showing up first. What's more, your IM conversations can be retrieved from any PC or web browser where you have signed in to Yahoo! Messenger.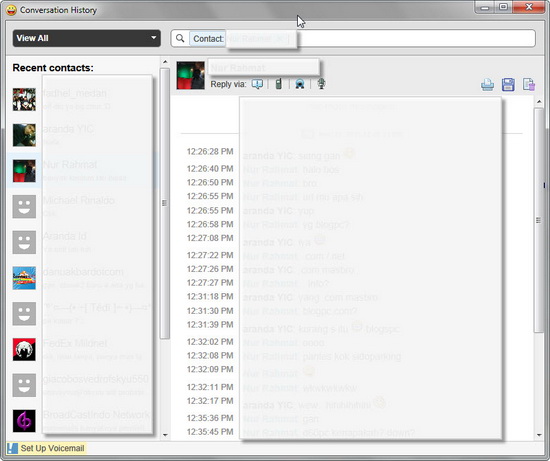 Snap and Share : Add more color to your chat conversations! In addition to photos, you can now take a quick snap shot of your computer screen and easily share it with your friends.
Quick Access to All Emoticons : Yahoo! Messenger has always had some hidden emoticons that weren't available on the emoticon menu, which meant you had to memorize their shortcuts. Now you no longer have to rack your brain to remember the shortcut for the monkey emoticon (it's, for those keeping score). The emoticon menu gives you quick access to all the emoticons, and even remembers the ones you use most frequently!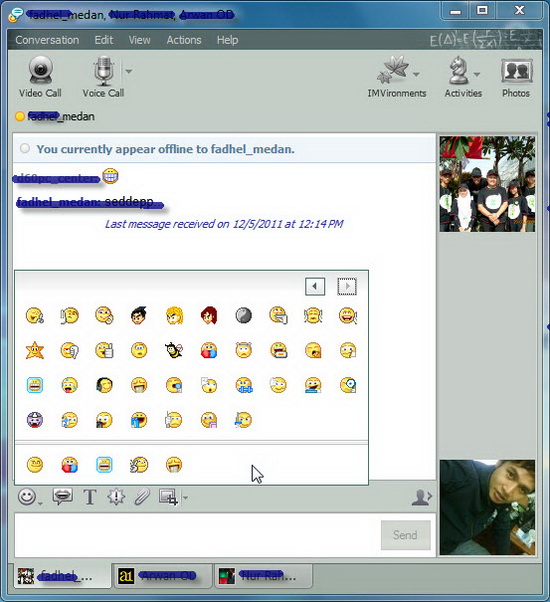 Now in Romanian too : Finally, we value all our users around the world and try as much as we can to deliver a truly local experience. With this new release, millions of users in Romania will now be able to use Yahoo! Messenger in Romanian by selecting it from the language box on the sign-in page!
So for you who like to use Yahoo Messenger as Instant Messaging application, immediately download and update to the newest version of Yahoo Messenger 11.5.0.152. Yahoo Messenger 11.5 is available as online installer from Yahoo messenger website but you can also get offline installer from direct download link listed below.
Update : Yahoo! Messenger 11.5.0.192 – Offline Installer

Yahoo Messenger 11.5 Final Version (11.5.0.192 En-Us Offline Installer) – For Windows
Yahoo Messenger 11 Final Version – For Mac OS
Yahoo Messenger 11 Final Version – For Web