Yahoo Messenger 11.5.0.192 – Offline Installer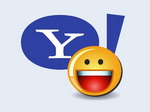 Yahoo! Messenger has release the newest version, Yahoo Messenger 11.5.0.192. Not much significant changes noticed from feature or interfaces. It might be a minor update remembering it's still on 11.5 version. But obviously that the newest version  from Yahoo! is better than the previous version. So for the faithful users of Yahoo! Messenger, update your Yahoo Messenger chat application immediately.
As already known, usually Yahoo! Provide online link installer on their sites : http://messenger.yahoo.com/download/ . Here I will also share Offline Installer from the direct download link below. Of course with Offline installer it will be easier and faster to be downloaded and can be installed anytime on your computer or notebook without any need for internet connection when doing the installation of Yahoo! Messenger
What's new in Yahoo! Messenger 11.5.0.152 :
Tab support in IM windows
Improved spam management
New social games
Quick access to recent contacts
Improved archive management
Share screenshots with friends
All emoticons available, no more hidden emoticons
Romanian version available
The final version of Yahoo! Messenger 11.5.0.192 is now available. This is Full Direct Download Offline Installer from Yahoo! server.
Yahoo Messenger 11.5 Final Version (11.5.0.192 En-Us Offline Installer) – For Windows
Yahoo Messenger 11 Final Version – For Mac OS
Yahoo Messenger 11 Final Version – For Web