WPGOLD: WordPress Under One Roof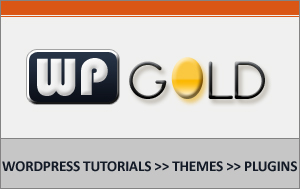 Not too long ago, a desktop or laptop computer was the principal means of accessing the Internet. Now there are tablets, smart phones, game consoles, even computers in cars to connect to the network. Unfortunately, website designs have not advanced as quickly as technology…until now.

Then the entry of wordpress created a revolutionary in website designs where it brought in a real picture that website creation can be completed within a few minutes with wordpress themes.

As the popularity of the wordpress themes, plugins, and their tutorials increased wpgold.net planned to bring all information under one roof to make the users ease in handling wordpress. Wpgold.net holds tons of informative post covering right from the scratch of how to make a post to how to make use of advanced settings in wordpress. Everything is detailed in step by step manner with pictorial representation so that users can get a clear idea regarding what they were looking after. To make it short it is an one-stop-shop of WordPress themes for the user new to WordPress as well as the experienced professional.
Wpgold.net also features separate area for both free wordpress themes as well as premium wordpress themes. One can come across all types of themes matching their requirement such as magazine, portfolio, business, ecommerce etc.
Wpgold.net holds a separate WP store where you can come across hundreds of eBooks covering up all the topics which you could think of in your mind right from setting up the wordpress to earning money through wordpress. Purchasing any eBook is extremely convenient. Each sales page has a handy "Add to Cart" button, which makes you to download them at ease.
So it is no wonder that wpgold.net is going to play a major role with all users in providing great information, themes, plugins and tutorials.
You can  find wordpress link  at the top menu of blogpc .com.Its our official website for worpress section.