Using Skype to Make Free Calls on Android Devices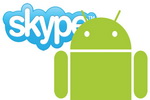 For Android devices users, there are lot of way to make calls for free. One of it is by using Skype. You can make free calls using Skype on your android phone without any need to get extra charges such as regular call prices. and Skype Application can also be downloaded freely from Google Play Store.
Not only audio call, Skype on Android can also do video call and what's interesting that you can also make free calls from Android devices to iPhone, Mac or PC which also using Skype.
Skype on Android Features :
Skype to Skype IMs, video and voice calls are free* over 3G or WiFi.
Make low-cost calls and SMS to mobiles or landlines from your Android.
Send pictures, videos and files to any of your contacts.
Enjoy high-quality sound when you call anyone else on Skype.
Talk face to face or show what you're seeing with front and rear-facing cameras.
Skype for Android App – Now with Video Calling
To use Skype, what need to be owned by the users are the internet connection and a Skype Account which can be get freely by sign up on Skype : www.skype.com
To make video calls, you need a fast internet connection from 3G or Wi-Fi, so when you don't have a fast internet connection. Audio call might be a better choice. From many similar application for Android devices, I think Skype Apps is the right choice, because it already tested that even with a slow connection you can make audio call freely with a clean audio quality from Skype
Download : Skype for Android on Google Play Store