Update Firefox Plugins Using Mozilla Plugin Check Tool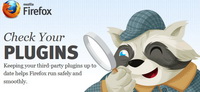 Mozilla Firefox is one of the free browsers which supported by lot of free add-ons and plug-ins which make it so popular, popular enough to be one of the most favorite browsers in the world. To increasing the performance and security from the Firefox Browser, Mozilla provide a service "Plug-in Check" which can be used by all Firefox users to check the plug-in updates and notify about all plug-ins on the Firefox browser, and if it need update, also provided with the download link of the plug-in which need update.
Plug-ins are one of the most important element on a browser so it can open, recognize, and play animations, videos, and games files directly from the browser. As example if you want to watch video from YouTube, then your browser need to be installed with "Flash plug-in" from Adobe. Also when you want to open a .pdf format file directly from Firefox browser, then you need to have PDF reader plug-in developed by Adobe, and so much other plug-ins.
Because of the importance of plug-ins in a browser, you need to keep your plug-ins updated from time to time regularly so it stays up-to-date. Even when plug-ins have so many purpose and function, but plug-ins can also make browsers and computers weak to virus, malware or other security threat. Adobe Flash Player is one of the plug-ins which have a big security loophole like what I have wrote before here (List of Application with the Level of Security Vulnerability) based on the report from one of the famous anti-virus Kaspersky. Because of that, you have to update your plug-ins on your Firefox Browser.
Other than having security loophole, outdated plug-ins can also make your browsing experience disturbed, because it can make your browser crash and error so often. Outdated plug-in on Firefox can also reducing the performance of the Firefox Browser and make your browsing process become longer when accessing a website.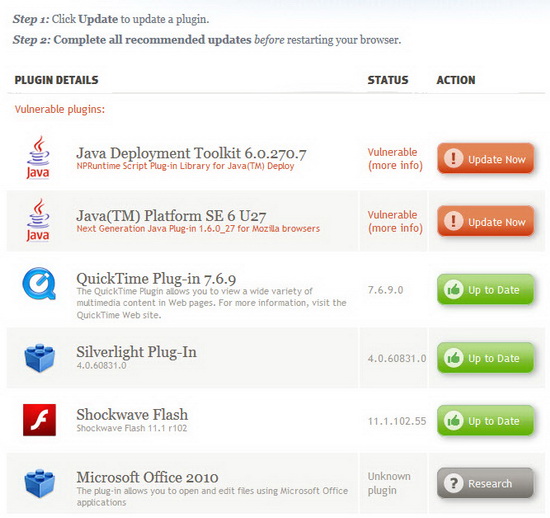 On the "Firefox Plug-in Check" service, every plug-in which up-to-date will be marked with a green button, and for outdated plug-ins will be marked with red and yellow button. For the outdated plug-ins, you can directly click on the "Update Now" button to update your browser plug-in on your Firefox, you will be directed to the home page of the producer of the plug-in.
So for you Mozilla Firefox Browser users, let's update and check your Firefox plug-ins so the performance of your Firefox browser stay at its best, having a good security and of course making your browsing experience with Firefox become fast and comfortable.
Check out Mozilla Firefox Plug-in Check : www.mozilla.org/en-US/plugincheck/ to quickly update your Firefox browser's plug-ins
UPDATE PLUGINS, firefox plugin check, yhs-ddc_bd, update firefox plugins