TuneUp Utilities 2012 Final

TuneUp Utilities 2012 is software which can optimize the capability of your windows based computer or notebook. By using this program, windows operating system which you use will be faster, lighter, and more comfortable when used. Tune Up Utilities are one of software which is really recommended because without needing any special ability we can keep the performance of our computer.
Other than making windows operating system faster, TuneUp Utilites can also be used to adjust your windows system interface, like changing the interface of icon, boot screen, logon screen, visual style, and others.
What interested from TuneUp Utilities is we also given options to analyze our internet connection and adjust computer setting to maximize it with the internet connection that we used. Feature TuneUp 1- Click Maintenance which is the best product of this program still available and still become on of the advantage of TuneUp Utilities. With this feature, only one click is enough to automatically repair and increase the windows system performance.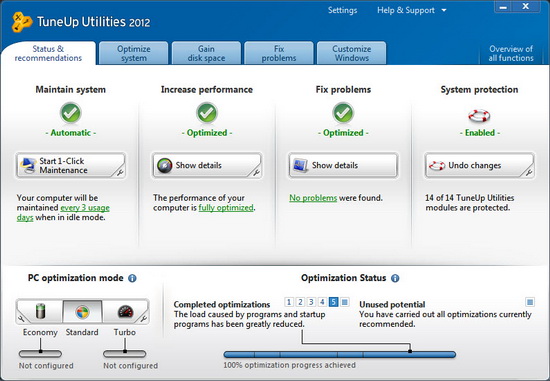 TuneUp give high attention to system stability, so windows will not stop working or will become really slow when optimized with this program. And most change that you made can be undone with TuneUp Rescue Center easily and safely.
TuneUp Utilities will automatically do maintenance jobs which important to you, make you knows every problem and offer a simple solution. This thing guarantees that performance will always be the best. A slow computer and messy computer now will become better.
Here are some key features of "TuneUp Utilities" :
TuneUp Start page :
Intuitive Layout, Easy to Use
Provides quick and easy access to the most critical optimization functions
A single yet comprehensive appraisal of your PC's current performance and overall system health
TuneUp Speed Optimizer :
Intelligent, Powerful Utility for any User Skill Level
Easy optimization in just a few clicks
Identifies unused programs and resource-draining functions
Recommends tools for optimal PC performance
TuneUp 1-Click Maintenance :
Automatic, Fast Optimization
Enables one-click maintenance of the most important functions of your PC
Cleans the Windows registry
Deletes temporary files and folders
Increases the system performance through integrated defragmentation
Streamlines your desktop and simplifies folder shortcuts with one click
TuneUp Drive Defrag : Intelligent defragmentation with new progress display
TuneUp System Control : Supports Opera
TuneUp Uninstall Manager : Intuitive uninstall options
TuneUp Startup Manager : Increases the speed at the start-up of your PC
TuneUp Registry Cleaner : More powerful tool with in-depth view of your PC registry
What's New in This Release in TuneUp utilities 2012 :
TuneUp Economy Mode:
Does your laptop battery go flat just before the end of a film? Is your desktop PC pushing up your electricity bill? TuneUp Utilities is putting a stop to all greedy energy-guzzlers! The brand new TuneUp Economy Mode improves the energy management on laptops and even helps desktop PCs to turn green.
The Improved TuneUp Program Deactivator with Automatic Function:
With almost every program installation, a degree of performance and stability is lost – nearly every PC user is familiar with this exasperating problem. The improved TuneUp Program Deactivator™ re-enables disabled programs while they are in use and then disables them again automatically so that the load on your PC is always kept as low as possible.
The new TuneUp Utilities settings :
TuneUp Utilities gives you full control over the key functions and modules of TuneUp Utilities with the new central settings dialog, all in a single window.
The New-Look Start Center :
The new-look interface makes…
With interesting interface, easy to operate, and complete function make TuneUp Utilities Program as a must have software on all computer or netbook users which use Windows Operating System
Download TuneUp Utilities 2012
You can download TuneUp Utilites from their official website : TuneUp Utilities 2012
tuneup utilities 2012, tuneup utilities 2012 key, ??????? ????????? tuneup utilities 2012