Top 50 Android Apps Of 2013
Top 50 Android Apps Of 2013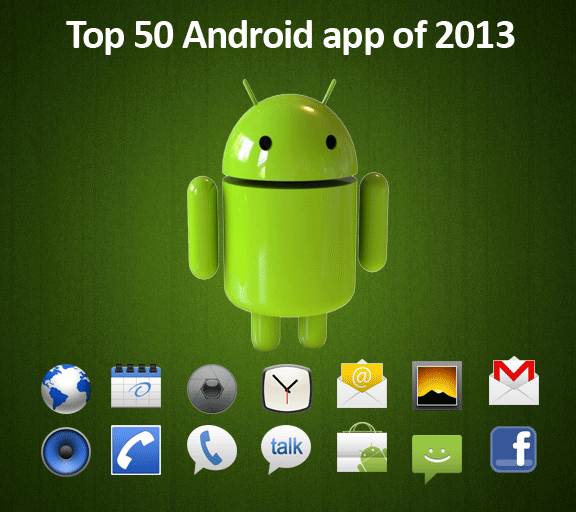 On the lookout for the top 50 Android apps of 2013? You're in the right place! This is an updated list of the fifty hottest, greatest, most appreciated Android apps of 2013.
Top Android Games of 2013
Temple Run 2
The original Temple Run was a smash hit in the Android gaming sector, a claim that is perfectly backed by the insane number of downloads (north of 170 million). The sequel – Temple Run 2 – lives up to the original's reputation as one of the best running games of its time by offering better graphics, more characters, new obstacles as well as more powerups and achievements. How far can you escape with the cursed idol before the monkey gets you?
Angry Birds Space
Angry Birds Space is the first major update to the highly successful Angry Bird formula. In Space, the birds will go after their pig enemies across 150 interstellar levels, all placed in zero gravity. This fresh element, along with the new birds and superpowers allows for a very interesting experience for both fans of the original Angry Birds, as well as those who are new to the concept. Angry Birds Space and Angry Birds Space HD are both free in their ad-supported version.
Cut The Rope – Time Travel
Cut the Rope – Time Travel might just be the best psychics-based game available on the Android platform. Your goal in each level is to feed two friendly monsters with generous amounts of candy, and you'll be pursuing that purpose throughout six time periods, ranging from the Stone Age to Ancient Greece & Egypt and the Renaissance.
Into the Dead
Into the Dead is a zombie-themed survival game for Android like no other in the Google Play Store. Amazing graphics, three gameplay modes (Survival, Massacre and Hardcore), and a mission-based weapon unlocking system that can prove to be quite addictive are all part of a unique gaming experience. The competitive amongst you will probably love the fact that you can compete with your buddies for the top spot in the friends rank.
Brothers in Arms 2: Global Front
If you are a fan of Android shooting games, our top recommendation is Brothers in Arms 2: Global Front, perhaps the most graphics-heavy Android game on this list, but also one that features a very complex game mechanism. Start your way up the ranks by gaining experience in either single player or multiplayer mode, then use that experience to better equip your soldier.
OnLive
Although it is not actually a game, the OnLive platform can stream any computer game to your Android tablet, PC or Mac. The OnLive Android app itself is free to download, but you'll need to pay for most games individually. If you just can't accept the idea that you need a PC to play Assassin's Creed Revelations, OnLive is the Android app you are looking for.
Whatsapp
The WhatsApp Messenger Android App uses your data connection (3G when on the go, or Wi-Fi when near a router) to send and receive messages with your friend circle. Often advertised as "the death of the SMS", the WhatsApp Messenger limits the cost of communicating with your friends while also adding the ability to send and receive not just short text messages, but pictures, audio notes and video as well. WhatsApp for Android is free for the first year of use, and then costs $0.99 per year after.
MightyText
If you're looking for a centralized way of managing your Android smartphone's SMS service, MightyText is just the app for you. Once Mighty Text is set up, any message that hits your smartphone will be instantly synced to your computer or tablet so that you can send/manage messages, see who is calling or check the battery level of your Android smartphone from the comfort of your computer/tablet.
Google Voice
Google Voice is a voice calling / messaging service directly from the developers of the Android OS. Once you register with a Google Voice number, you'll be able to use the number to place domestic or international calls using the standard minutes of your smartphone plan. At the moment, Google Voice is available for US users only.
Skype
Skype is one of the oldest, most popular instant messaging apps for Android, and probably the most used app in the world for online video calling. Use your data connection to make free Skype to Skype audio or video calls, or use the app to place low-cost calls anywhere in the world, the choice is all yours!
Top Android Movie Apps of 2013
MX Player
Out of the myriad of Android movie players available, MX Player is the one app that impresses the most, mainly due to features such as Hardware Acceleration (with multi-core decoding), Pinch to Zoom or Subtitle Scroll. MX Player for Android comes as a free download in the ad-supported version, but costs $5.70 in the ad-free version.
HBO GO
If you have a cable subscription with HBO, you'll want to download HBO GO for Android and unlock full access to HBO content on your mobile device. Please note that a strong 3G connection is needed for streaming HQ HBO movies, comedy specials, sports, shows and documentaries.
Netflix
As you would expect, the most popular subscription-based movie streaming platform in world also has a home on Android. The Netflix Android App is free to download, but requires a $9.99 / month Netflix subscription in order to access to the actual content.
Top Android Social Networking apps of 2013
Facebook
The biggest social network in the world is constantly working on improving the Facebook experience on Android. Although the Facebook app is not perfect (users have voiced their dissatisfaction with the app by giving it a 3.6 overall app score in the Play Store), this is the app you'll need for keeping in touch with your Facebook friends.
Facebook Home
If you're looking to significantly improve the Facebook experience on your Android smartphone, Facebook Home is a custom launcher launched recently by the social networking giant that you might want to give a try. At the moment available for a limited number of smartphones, Facebook Home places your Facebook friends in the center of the user experience.
Google Plus
Although launched less than two years ago, Google Plus was quick to secure its spot as the second largest social network in the world, an achievement that was surely aided by the fact that Google's social network is already perfectly integrated in the Android OS. The Google Plus app for Android works extremely smooth and comes with an array of improvements over any other social networking app out there.
Instagram
Although the photo-centric social network Instagram was launched for Android back in 2012, it is still one of the best ways to capture, edit, and share photos with your online friends, all behind your Android smartphone's display. More recently, Instagram users can now tag their friends, thus further enhancing the social immersion of this app.
Top Android Camera and Photo Editing Apps of 2013
Camera360 Ultimate
If you are not satisfied with your Android camera App, give Camera 360 a shot. Camera 360 for Android now has more than 100 million users, and is often considered the best all-round camera app for Android. Enhancing your photos with multi-layered effects, adding one of the many scenes or changing the color temperature of your photos are all just a touch away.
GIF Camera
GIF Camera is an Android app with a very interesting functionality, as the software allows you to create GIF scenes by capturing a quick burst of photos with the camera present on your Android device. A quick way to have fun and be creative with your friends! GIF lovers are surely going to love this one…
Photoshop Touch
Photoshop Touch is the best Android app for editing photos, but all the extra features that this app has when compared against other photo editing apps for Android come at the price of $4.99. Those of you that want the best way to tweak photos on an Android device should look no further.
Top Android Browsers of 2013 / Browses
Dolphin
Dolphin is often considered to be the single best Android Browser, both thanks to its amazing browsing engine, as well as its intuitive user interface. Other features that make Dolphin one of the best Android apps of 2013 overall include voice commands, gesture control, as well the ability to install add-ons.
Chrome for Android
Back in 2012, Google has decided to promote its Chrome for Android browser as the the built-in Android browser. If you're using Chrome as your PC browser, you will probably want to give it a shot on Android as well, and make full use of its syncing advantages. On the downside, the HTML5 browser has some issues when trying to play video, a problem that is rarely encountered with Dolphin.
Opera Mini
If you're on a thigh data diet (as in you don't have too much of a 3G bandwidth allocation), you might want to give Opera Mini a try. Opera Mini will only display most relevant information, basically stripping down all the non-essential details in a web page. Visually, it is not a great browsing experience, but if you plan on browsing more with less MB of mobile internet, this is the single best free download you can find inside the Google Play Store.
Top Content Aggregation and Discovery Apps for Android in 2013
Pinterest
Pinterest is one of the most exciting content discovery apps available for Android. The concept of "pinning" is very simple: you can pin images from any place on the web, add pictures from your photo gallery or capture a photo with your camera. Pin collections are called boards, and you can share these boards with other people and, in turn, view the boards others have created.
FlipBoard
Flipboard is an Android content aggregation app that collects news sources as well as social updates and formats all this information into a magazine that you can flip through. More recently, users were given the ability to create or browse shareable personalized magazines. The name speaks greatly about Fliboard's user interface. Beware: flipping through a well curated feed of information can become addictive very quickly!
Feedly
Feedly places all your favorite blogs and Youtube channels just a touch away. Now that Google has discontinued Google Reader, Feedly might just be the best Android RSS aggregation app currently available. A modern interface and fast loading times make for a great content reading experience on both smartphones and tablets.
StumbleUpon
StumbleUpon is not a new content discovery platform, although it is perhaps the only one that has managed to adapt to user preferences. The StumbleUpon Android app gives you all the power of the web app in the palm of your display, with embedded social sharing functionality. Overall a great way to discover and share new, interesting web content!
Top Android File Managers of 2013
Astro File Manager
If you are looking for the top Android File Manager, look no further as ASTRO File Manager is just the app for you. ASTRO File Manager allows quick access to all your files, ranging from the files stored on the local SD card to your Google Drive/DropBox cloud storage accounts or your Facebook Photo Album. If you find yourself often working with files, head on to the Google Play Store and give this free app a shot.
Wi-Fi File Transfer
Although not the best Android file manager app, Wi-Fi File Transfer comes with a unique feature in that it allows you to transfer and manage the files on your Android device via any machine with a HTML5-capable browser. Install Wi-Fi File Transfer on your Android device, enable the app, then go to a specific IP address and start managing your content without any cables needed.
Top Android Note Taking Apps of 2013
Evernote
Since Evernote is the most popular cloud-based note taking platform out there, it makes sense that the company has always counted on a proper Android app. Often referred to as one of the best Android apps of all time, Evernote should be your first option for quick note taking, audio recording, or capturing photos for productivity purposes. Once your files have been uploaded to the Evernote servers, you'll be able to access them from any other machine with a web connection.
Google Keep
One of the best Android apps launched in 2013 is Google Keep, essentially an Evernote-like cloud-based note taking app that stores all your data on Google servers. Google Keep is the best alternative to Evernote that you are going to find, and a preferable one if you constantly use numerous Google web-based services.
Top Android Cloud Storage Apps of 2013
Google Drive
Given that Google Drive is deeply integrated into the Android OS, it is often regarded as the number one Android cloud storage App, and rightfully so, since the service now includes and extends Docs, Google's service that allows you to create and edit Word documents, spreadsheets, forms and presentations. As far as the cloud-storage part of Google Drive is concerned, you get 5GB of free storage space, but you'll need to pay $2.49 / month for 25GB or $4.99 / month for 100GB.
Drop Box
DropBox was the the first cloud storage platform to gain user traction, and still represents a viable solution to Google Drive. Pro tip: use DropBox for Android as a complement to Google Drive if you don't plan on spending money for extra storage space. Instead, you can use a file manager to take benefit of both DropBox and Google Drive at the same time and double your cloud storage space.
Best Miscellaneous Android Apps of 2013
Amazon App Store
The Amazon App Store is the only Android app that you cannot find on Google Play. Instead, you need to go to Amazon's website, then download and install the Amazon AppStore APK. Once that's done, you'll have access to the Amazon Android App Store. Even if you don't plan on purchasing apps from the Amazon App Store, you might want to install the app anyway and take advantage of the "Daily Free App" promotion that Amazon has going on.
Groupon
Groupon – the number one discounts, offers and promotions discovery service – has an Android app available that can work as a wallet for Groupon deals, meaning that you don't have to print any coupon codes. Just bring your Android smartphone and instantly take advantage of the offer you have previously signed up for.  It's a quick way to save money if you find anything that interests you, so go ahead and give it a shot!
Speed Test
If you're looking to test how fast your carrier's data connection is, download Speed Test and quickly analyze data download and upload speeds. Check your score and compare it with others to easily diagnose any potential connectivity problems you might be having.
Adobe Reader
PDF is such a popular file format that you're going to end up needing an Android PDF reader no matter what you do. The best Android PDF Reader app that you can find is Adobe Reader, a fast and streamlined way of reading PDF files on your Android device.
Dictionary.com
Stuck on the meaning or etymology of a word? Open the Dictionary.com Android app and learn new words on the go. A small free Android app that can prove quite useful as an e-book reader's companion!
IMDB
The IMDB Android app is the perfect application for all movie lovers. View movie / TV show information, read & post comments and reviews, and access the full power of the Internet Movie Database on your Android device.
Top Android Keyboard Apps of 2013
Swift Key 3
If you're looking to replace your standard Android keyboard, we've got you covered! However, if you want the ultimate best, you should know Swift Key 3 comes with a price of $3.99. At that price, you get the world's most accurate predictive typing system, one that tries (and most often successfully manages) to predict not just the letters in the current word, but even a few words ahead. Another advantage that Swift Key 3 has over other Android keyboards is that it can learn from blogs and other text, not just your input.
Swype
Another excellent paid alternative to your standard Android keyboard is Swype, an app that currently costs $0.99 in the Google Play Store. Just in case you're wondering how fast the Sype Android Keyboard really is, learn that this was the keyboard used to set the current Guinness World Record for the fastest time to type a message. Impressive stuff wouldn't you agree?
Top Android Music Apps of 2013
Spotify Premium
Widely regarded as the best Android music streaming service, Spotify allows full access to millions of songs in return for a $9.99 subscription fee. Fortunately, you can test the Premium membership for 48 hours before deciding if Spotify is right for your or not.
Shazam
Can't figure out the name of that song you keep hearing on the radio? Shazam is a music discovery app for Android that can recognize music and TV shows by recording a short audio sample and then comparing it against a database. The number of songs that Shazam can identify is nothing short of impressive! In addition, if you're willing to upgrade to the Premium version, once a song is recognized the user can listen to the full song on Pandora.
PowerAmp
PowerAmp is widely regarded as the best Android music player of 2013. Quickly add equalization settings to improve the overall audio quality, or use the advanced crossfader for seamless playlist progression. PowerAmp can work with most audio file formats and is available as a free trial for 15 days. After this free trial expires, you will need to shed out $3.99 to continue using PowerAMP.
Best Android Weather Widgets
AccuWeather
The official Android weather widget from the renowned AccuWeather.com weather forecast service is one of the best designed and most useful app available for Google's mobile operating system. Choose the 4 by 1 widget or the 4 by 2 widgets to show indicators such as Humidity, Pressure, Wind Speed, UV Index, Visibility and Dew Point on your homescreen. This is a weather widget that was designed in collaboration with Google, and that shows in the overall quality level.
Yahoo Weather
Yahoo Weather – one of the most popular weather forecast sources – is available as an Android weather widget, and one of the most accurate such widgets at that. The Yahoo Weather Widget for Android is free to download from the Google Play Store!
Best Stock Exchange Android Apps
E*TRADE Mobile
Probably the best way of handling stock info on your Android device is E*TRADE Mobile, an Android app that allows you to receive real-time quotes and place trades in just a few taps. E-TRADE Mobile is the first stock-centered Android app that you should try: it is free in the Google Play Store.
US Economy
If checking the US stock exchange from the comfort of your Android device is something that you just cannot live without, the US Economy Android App might be exactly what you're looking for. In addition of providing stock quotes, the US Economy app also serves as a home for a complex discussion based on the economy of the United States.
Top GPS Apps for Android in 2013
Google Maps
Google Maps is not only the GPS App that's directly integrated into the Android operating system, but also the best one you can get on any Android device for free. Google worked hard to constantly improve the Google Maps on Android experience and that shows in the overall quality of the Google Maps app.
NavFree
For one reason or the other, you don't want to work with Google Maps as your primary GPS App on Android, right? Then go give Navfree a try: this free GPS Android navigation app is free to download and use and should be your primary Google Maps alternative. Although not better overall than Google Maps, Navfree stores the maps locally on your device, so you don't need a data connection to navigate your world.
com google android apps maps, top android apps 2013, top 50 android apps 2013, android apps top