The Best Android Tablet Widgets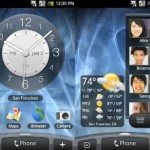 Tablets are great fun, nd a major part of the fun comes with the ability to personalize your device to your particular taste. Widgets help you out to a great extent in this matter, letting you add as many as will fit. If you just decided to follow the trend and get yourself a tablet, and now find yourself with no specific use of it, we are here to help you out. We give you the top 5 widgets for Android tablets that will make your tablet well worth the money you spent buying it.
Battery Widget
Your system tray already contains a battery level indicator. Then why do you need a battery app? In addition to shows your exact battery level, Battery Widget also displays other useful information about your battery, like temperature, voltage and health status. The app is available for free.
TuneIn Radio Widget
TuneIn Radio lets you turn your tablet (Wi-Fi connected) into an AM/FM/shortwave device, giving you access to tens of thousands of radio stations worldwide. You can also listen to available online feeds using TuneIn Radio. What's more, you don't even have to enter the call letters of the particular station you're searching for. An in-built search engine browses through the online listings by entered keywords, letting you explore until you find something interesting. You can also share what you're currently listening to on Facebook, Twitter, or via e-mail. TuneIn Radio is available for free.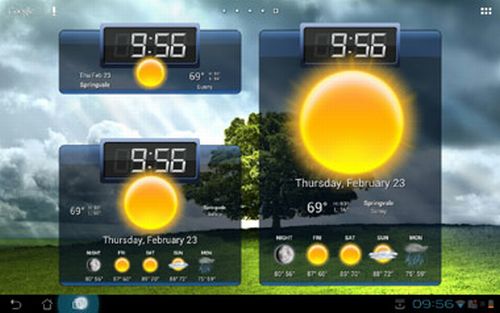 HD Widgets
This is actually a package of many widgets that offer a range of different functions- from a modest 1×1" widget that just gives you quick update of the local temperature, to a 4×7″ half page widget that current weather icon and you see a neat, full screen weather report overlay, with data from WeatherBug.com. Pick from a variety of clock face types. Separate controls are also available that let you adjust the background colors to suit your taste. The widget-pack is available for $1.99.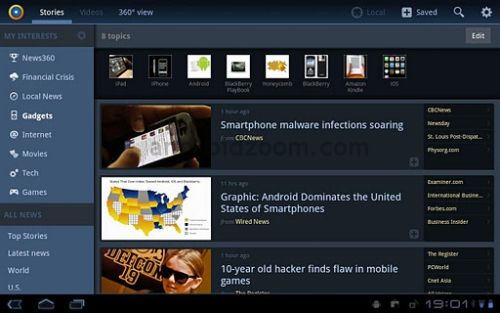 News360
A well-known news aggregator, the News360 widget is fully customizable and draws headlines from more than 20,000 sources (Twitter included), letting you see much beyond what one news organization lets you see. You can even sync your news feed with TripIt, enabling you to stay updated about news stories from whichever place you're heading. It also creates a so-called "interest graph", which comprehends activity on  your Facebook, Twitter, Google+ and Google Reader accounts and creates a news feed customized to your own interests. News360 is available for free.