Simple Way to Customize Your Windows Appearance with Custopack Tools

It seems that many feel that they're tired of their Windows XP, Vista, and Windows 7 Desktop Appearance. Then maybe they want to change the desktop appearance to be more good to look. So now there are many tools to modify your desktop, and one of them is Custopack Tools.
Custopack is a customization software for Windows appearance, made by crystalxp.net team that is well known for their Windows appearance customization. This software is compatible with Windows XP (32 bit), Windows Vista (32 and 64 bit), and Windows 7 (32 and 64 bit).
Custopack Tools includes features to choose installed theme pack, to edit it, to make your own theme pack, and to adjust some Custopack Tools option. When you are going to change theme, you can know what are the parts that can be changed. The pack included is able to make some appearance changes, such as :
Standard Icons, Visual Styles, Backgrounds, Fonts, Cursors, Sounds/ Notifications, Logon Screen, Rocketdock, Color Folder Skin, DLL midifications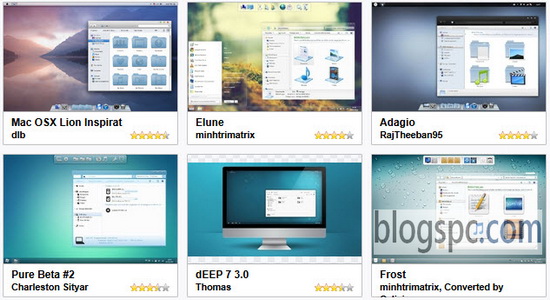 Many appearance options to choose, like imod (Mac OS), Lion OS (Mac OS), Seven Inspirat, etc. This software can be used by Windows XP, Windows Vista, and Windows 7 users.
Install dan Download Pack
To use it, just download CustoPack Tools and install it on your computer. This software hasn't included the themes above. So that you can download the pack provided by the Custopack Gallery page, and choose according to your operating system. After that just install and run the pack downloaded, so will appear on the Custopack Tools software.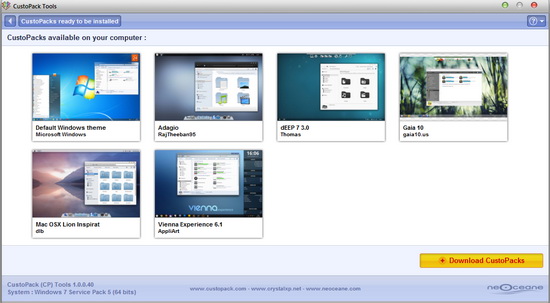 Each theme has different size, the big one and also the the small one. And make sure to restart your computer right after you install the software (this is a must, so the changes will take effect).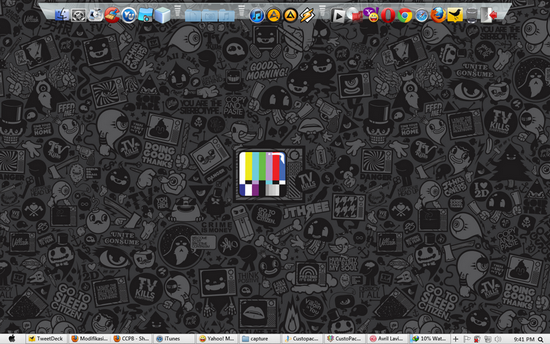 And as you can see above, that's my desktop appearance. I'm using mac lion os theme, just to be seen like macintosh desktop
custopack gallery, custopack themes, custopack themes for windows 7 free download, custopack themes for windows xp