Safari Browser For Windows OS Users

For you Windows users, now you are able to try the Safari Browser capabilities. Safari is a Browser made by Apple that can be found on the Mac OS, iPhone, iPod Touch or iPad. Safari now has a new version, Safari 5 and it can be downloaded for Windows OS Users. So for you Windows users who have never tried Apple's browser, you can download it and try it now.
Safari on Windows is also not inferior to other browsers that are more familiar in Windows such as Firefox, Chrome, or Internet Explorer. Because Safari also features the importance of "Speed , Stability and Security for its users. In addition Safari has an attractive and elegant visual display also in the "Top Sites" feature which can be found on the Safari Browser.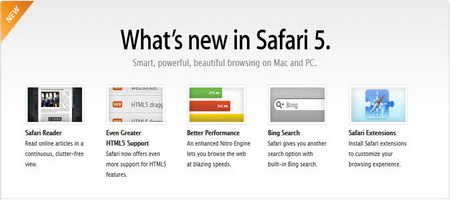 Changes in Safari 5 for Windows :
Safari Reader. Read online articles in a continuous, clutter-free view.

Even Greater HTML5 Support. Safari now offers even more support for HTML5 features.

Better Performance. An enhanced Nitro Engine lets you browse the web at blazing speeds.

Bing Search. Safari gives you another search option with built-in Bing search.

Safari Developer Program. Customize Safari with extensions you create using web standards
Download : Browser Safari 5.05 – Windows
Download : Safari All Version
safari offline installer, safari offline installer windows, safari offline installer download, download safari offline installer, safari browser offline installer, safari standalone installer