Rumour: Samsung Galaxy Note II Comes With Jaw Dropping Features, But Not With OS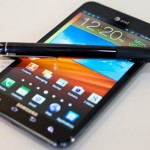 After the recent success of Samsungwith the new ranges of galaxy smart phone they are not going to sit quiet as they are up with new versions of galaxy. Samsung has always tried to produce innovations at the best. This time they have changed the conception of galaxy into higher level. Their new presentation Samsung galaxy Note II is expected to get released by end of this month will sure blow your mind with some jaw dropping features.
Let us analyze its brilliant features:
Processor
The new Samsung Galaxy Note II is expected to be powered with new Samsung exynos 4 quad core chip. Each core will be powered by 1.5 GHz. The processing speed is enough for you business users.
Operating software
The new galaxy note II is expected with operating system of android 4.0.4 ice cream sandwich which is not the most recent one but still is handy. No jelly bean till now, so the OS will upset you all a little bit but the fact is very soon android 4.1 jelly bean will be available for this Smartphone as an upgrade.
Display
Super AMOLED display with capacitive touch, touchWiz user interface and last but not the least protected though gorilla glass. 5.5 inches screen with a resolution of 1280 X 800 pixels. It is expected to have some brilliant and clear display with HD graphics
Camera
As it is a multimedia device so don't worry at all about its camera quality. It has got powerful camera quality with 8MP autofocus and Geo-tagging, touch focus and image stabilization. It comes with both primary and secondary camera.
Battery life
Android Phone Battery life   is enough for this media heavy device and at par with the previous galaxy s2.
Other features
Many other features like GPRS, EDGE, Wi-Fi, v4.0 Bluetooth, near field technology, HTML5 browser.
Why should you buy it?
It lacks jelly bean till now which is the most desired for smartphone lovers now a day but inspite of that it really is a nice and handy smartphone with smarter looks. The screen size, multimedia features are its stronger points.
Also i have written Samsung Galaxy S3 review ,you can check out.