Opera Browser 11.50 Released

In this latest version of Opera, there are some improvements and feature additions. Opera 11.50 offers you new smoother and lighter design from the former version. Besides, the new Speed Dial feature on Opera 11.50 not only displays front page of the chosen websites, but also gives newest information to the users.
This Opera latest version, users can get social media preview, inspirational quotes collection, newest weather forecast, headline news, latest favorite game score, and many more. This feature function called Speed Dial Extensions is look like a widget on a desktop computer or a smartphone.
More than 50 Speed Dial extensions are available. The full list can be seen on Opera official website. To have it, Opera web browser users can simply choose it and just install it. Developer who wants to make Speed Dial Extension can get the information from http://dev.opera.com.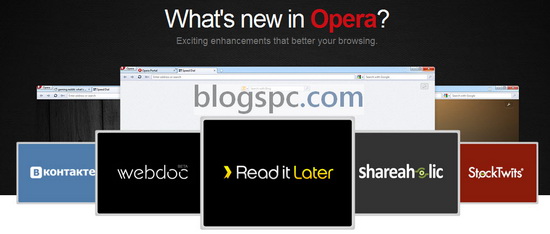 With this Opera new version, you can browse and open websites pages for fast and light. And users with slow internet connection are able to open websites pages fast by using Opera Turbo Feature.
What's new in Opera 11.50 :
Faster and with better web standards support

Stay up to date with a live Speed Dial

Easy installation of missing plug-ins

Keep your passwords in sync
Opera 11.50  can be freely downloaded for Mac, Windows, and Linux users. You can download Opera 11.50 by clicking the direct link download here