Official Hotmail App for Android

Microsoft has release Official Hotmail App for Android. Android users who use hotmail now can get this application from Android Market. This is a good news considering Hotmail is one of the popular email services which used by lot of people in the world.
With Hotmail Application on Android, now you can easily access Windows Live Hotmail from your Android gadget. This application is free with lot of feature that can you get to make your access and management for email on your gadget easier.
Official Hotmail App also able to synchronize some MSN account, including Hotmail and Live. You can also use the search feature which provided in the application to search for contact and email easy and fast. So for you who have Hotmail account and an Android phone, this application is a must to have.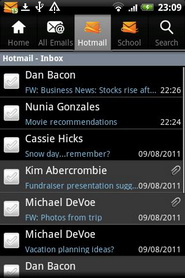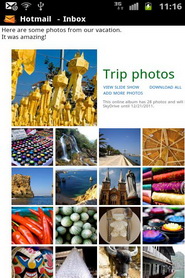 Key features include :
With push email get messages on your phone without delay
Synced calendar and contacts
View your folders in Hotmail, including sub folders
Send pictures from your phone using Hotmail
Supports multiple Hotmail accounts
Send, receive and view attachments
Official Hotmail Mobile App for Android is compatible with all Android devices with version 2.1 or above. You can get it in the Android Market now