Official Google+ Extensions for Chrome – Must Have Extension for Google+ Users

Google has released two official extension of Google+ for Chrome browser, these extension are named Google+ Notification and Google+1 Button. With the two extensions, you can easily share link and get notification on Google+.
By adding the Google+1 Button extension on your Chrome browser, now you can easily to share and suggest web page which you think interesting and worth to be visited by other people faster on Google+ account directly from the sites that you visit. Remembering the development of Google+ social network which owned by Google and now having more users, this extension is considerably need to be owned and this also one of interesting and great way to suggest a web page with quality content and useful to your friends.
Google+ Notifications extension is also a really useful extension for you whom active on using Google+, because you can easily get a new notification (example, when someone put you on a circle or share post with you). The color of Google+ Notifications extension will change into red and show how many updates that you receive. And what interesting is when you click the button of this extension. It will call a "drop-down" window which will show all y our notifications. You can directly replay comments for you or add someone back to your circle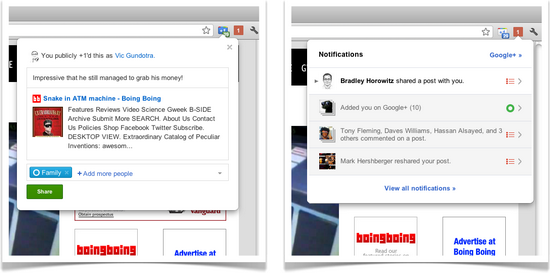 With the two official extension from Google for Google+ now you can stay up-to-date with your Google+ and get interesting experience by sharing quality web page content when browsing using Chrome browser
Get Google Plus Extension for Chrome Browser  |  via The Official Google Blog