NVIDIA GeForce GTX 550 Ti – Designed to Target Gamers
NVIDIA is announcing a new addition to the GeForce family of GPUs: the GeForce GTX 550 Ti. The GTX 550 Ti is designed to target gamers who care about performance but are on a budget. It fits in right between the GTS 450 and GTX 460. The GTS 450 continues to be one of NVIDIA's top selling GPUs. However, the GTX 550 Ti has more performance than the GTS 450 but priced below the GTX 460 at $149.
First off – the GTX 550 Ti comes with the same transistor-level changes the rest of the GTX 500 series GPUs come with that improve power efficiency. This essentially means that this GPU (and the rest of the GTX 500 series GPUs) can run at pretty high clock speeds but consume less power in doing so. Putting this into context – the GTX 550 Ti runs at a 900MHz clock speed (which can be overclocked to 1GHz)– 120MHz faster than the GTS 450, but consumes only a little bit more power than the GTS 450 does. The performance per watt is much better with the GTX 550 Ti than the GTS 450.
Another pretty big change with the GTX 550 Ti is its GDDR5 memory controller. Its memory controller supports what they call "mixed density" memory chips. This allowed NVIDIA to put a 1GB frame buffer on this GPU using a 192-bit memory interface. I actually found this part of the GTX 550 Ti the most interesting. Other GPUs that use a 192-bit memory interface are usually limited to 768MB of graphics memory. So for a GPU that is to have at least 1GB of total graphics memory – it essentially has to have a 1.5GB frame buffer. This makes the GPU more expensive to produce and then of course a bit higher in price for the consumer. With the mixed density memory that NVIDIA is using on the GTX 550 Ti, they don't have to boost the frame buffer to 1.5GB to ensure the full 1GB of memory graphics.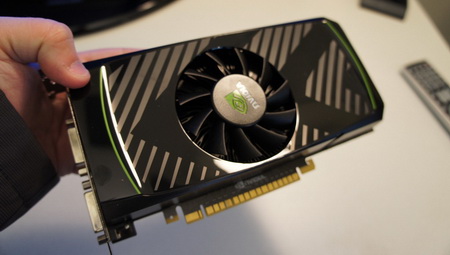 And then of course there is DirectX 11 support. DirectX 11 gives you a lot of improvements improved tessellation and faster geometry processing.  And it also supports 3D Vision for 3D gaming and Blu-ray movies. For those of you running older GPUs in your PC (like the GeForce 8600 GT) and are looking to upgrade on a budget – NVIDIA's GeForce 550 Ti is definitely worth a look.
NVIDIA also announced an updates 3D Vision wireless glasses kit for $149 which is $50 cheaper than the previous kit. The updated kit sports better battery life for the glasses.
gtx 550i, geforce 550i, nvidia geforce gtx 550i, geforce gtx550i, geforce gtx 550i