NotePad++ v5.9.2 – Source Code Editor Application
NotePad++ is an Source Code Editor Application which supports a few programming languages. Notepad++ was also designed to replace the standard Notepad. This program can be used to edit files quickly such as .html .php files. If you edit a few source codes using this program it will be easier, because it will appear as a single page without any tab separations.
This program is written in C++ language and uses Win32 API and STL which makes this program quicker in lighter to use. Notepad++ can be downloaded for free
Some of its general features include :
Tabbed document interface

Drag-and-drop

Multiple clipboard

Split screen editing and synchronized scrolling

Spell checker (requires Aspell) (Spell checker doesn't distinguish between text and code)

Supports file formats such as Unicode, for international writing systems

Find and replace over multiple documents

File comparison

Zooming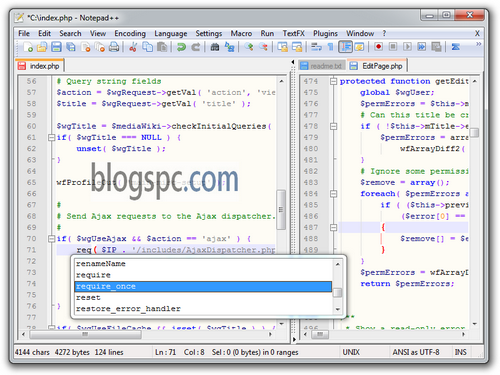 NotePad++ has more features than you're ever likely to use, but is one of the best and most complete text editors available.
Download : NotePad ++