NetSpeedMonitor : Way to Monitor Your Internet Connection Speed on Windows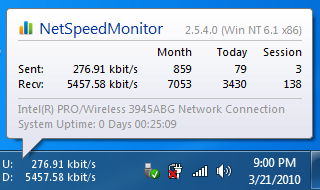 There are lot of application provided to track you internet speed accurately, one of it is NetSpeed Monitor. NetSpeedMonitor is a program used to track and monitor you internet connection speed easily. What interested from this application is that it provide monitoring internet connection speed in windows taskbar, so we can always monitor our networking activity easily.
With NetSpeedMonitor you can track your upload and download speed which you transfer. Traffic Logging feature on NetSpeedMonitor gives you choice to track history data which you use before, so it can help you control your internet usage.
You can also look at the traffic details for daily or monthly. After you install this application for the first time. It will ask for your network interface and you have to choose your network devices such as LAN card or USB modem based on what you used. The other advantage from this applicatin is that you can track all your connection history and information about how much data you can transfer from network interface
Softonic review :

Monitor the bandwidth usage for you computer

NetSpeedMonitor is a small monitoring tool designed to be used on computers that run Windows 7, Vista, XP, or Server 2003. It monitors a selected network interface and shows the current Up- and Downstream (bytes send and received per unit of time) in the Windows Taskbar.

The whole configuration of NetSpeedMonitor can be adjusted over the context menu of the Windows Toolbar which guarantees a fast and better switch between network interfaces and data transfer rates.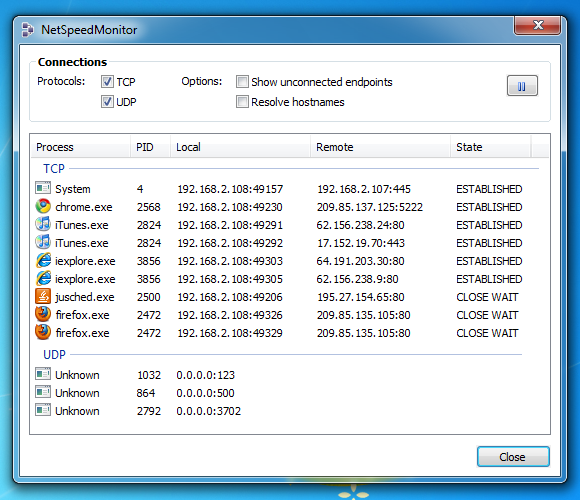 To activate this feature, you have to choose the Traffic Logging option in the start-up screen. NetSpeedMonitor will save the name of all your history into a database to be used later on. After all setting done, click save to start tracking your internet connection speed directly from windows taskbar.
After installed, this application will show the download and upload speed real-time on windows taskbar (XP/Vista/7). We can decide the denomination, it could be kbit(kilobit) or kB(kiloByte) and others. NetSpeedMonitor also provide lot of options or other configurations which can be adjusted based on the user's will
System Requirements :
Before installing, make sure your computer meets the system requirements. It's strongly recommended that you have installed the latest security patches and updates for your operating systems. NetSpeedMonitor can be installed on the following systems:
Windows XP, Windows XP Pro x64 Edition
Windows Server 2003, Windows Server 2003 x64 Edition
Windows Vista, Windows Vista x64 Edition
Windows 7, Windows 7 x64 Edition
For Windows 7, this application will automatically show it on taskbar. For XP and server 2003, NetSpeedMonitor can be shown by right click on the taskbar then choose NetSpeedMonitor on Toolbars menu.