MP3 Skype Recorder – Program to Record Skype Chat

MP3 Skype Recorder is a free program which can automatically record all your Skype Conversations (including conference). All your chat/conversation on Skype which recorded will be saved in audio MP3 format. This program can also record P2P Skype Calls and the call for Skype Online number.
This program is available in tray system and will monitors the Skype Call and will automatically record when you start chatting in Skype Application. Not only record automatically, this application can also record multiple calls simultaneously
The interface of this program are really simple, you don't need to go through trouble setting on MP3 Skype Recorder Application. You only need to choose bitrate quality, recording mode, mono or stereo or joint stereo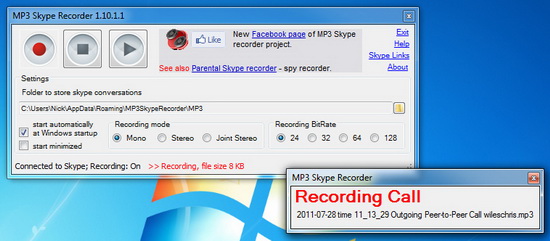 Main features of MP3 Skype Recorder :
It's absolutely free with no limits attached.
Automatic or manual recording capabilities.
Compact format of stored records (mp3 files).
May be used to record P2P, SkypeOut calls and calls made to Online number .
Capable to track simultaneous calls and to save them separately.
Easy integration with Skype Conference recording.
Intuitive easy to use interface.
System requirements :
OS : Windows XP, Vista, 7

.Net Framework

2.0 or later (will be downloaded from the Microsoft site and installed automatically )
Note: MP3 Skype Recorder uses a local port on your PC to get sound stream from Skype. That may get Windows Vista and few personal firewall products alert you with "low risk" warning. To let the program record calls you should allow Skype Call Recorder access that local port. This won't harm your system.
With simple interface and easy to use, this application is really good for you if you want to record and listen to your Skype chats/conversation again.
Download link latest version – MP3 Skype Recorder
mp3 skype recorder, mp3 skype recorder windows xp