Log In To Facebook and Other Social Websites Without Password

With the advanced technology now, you wont have to write your password when entering your Facebook account. Because a device called EyeLock which gives you the easy way to access your Facebook account as easy as you look at someone else in front of you.
Besides Facebook accounts, with EyeLock you can also use for other social websites and your other favourite websites that requires a password to enter.
The technology that is being developed by Hoyos Group, a company that specialize in making biorithmic tools, assuring the sensor tool towards the retina will be the medium to open your website accounts using your eyes, without having to ever type in the password manually.
The way to use it is also very easy, simply by connecting Eyelock to your computer through USB connection. Then, you choose the websites or applications on your computer to be protected. For an example your Facebook account, to enter your account you wont have to fill in the username and password column aymore.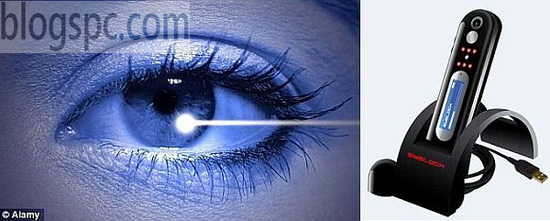 By using EyeLock from Hoyos Group you simply aim your eye towards the Eyelock sensor. The device then will recognize your retinas characteristic, then will generate a special password to be filled automatically to the account column on your Facebook. So each time you open your Facebook account, you just simply look into the Eyelock sensor, and your account will open automatically.
However, relating to the security issues for this hardware, one of the company officials based in America, Tracy Hoyos, mentioned that the security made by Eyelock is not easy to break. This device costs US$ 99 dolars is considered unique, besides able to change an input from the retina sensor into a new password, the device can also combine letters and numbers into the password.
But the lacking factor of EyeLock is located when the user has died? Then, all the accounts owned by this user will not be possible to be opened by other people, because a retina from a dead person will  decay straight away
Update From Tracy Hoyos : "However, please note EyeLock is an iris based solution, not retina. Retina is s a light-sensitive tissue lining the inner surface of the eye. The iris is a thin, circular structure in the eye, responsible for controlling the diameter and size of the pupils and thus the amount of light reaching the retina. (Iris is in the front, Retina is in the back)

It's a common mistake people make, confusing one with the other. However, iris, which is the color part of the eye, contains all the points which uniquely represent a person and stay biologically constant throughout an entire lifetime"
Let me know what you think about the EyeLock (and other personal biometric devices) in the comments below.
facebook log in and password, log in facebook without password, Enter Facebook Without Password