How to View the List of Installed Drivers on Computer from the Command Line
For you windows users, XP, Vista or Windows 7 who want to look at the list of your drivers installed on your windows faster, you can see it from DOS mode, it's really simple. Get in from DOS Prompt (Start > Run > CMD > Ok). When you see the DOS mode, type "driverquery" and press enter. Wait for a while; there will be a list of drivers installed on your computer Windows.
Running the command with no parameters will give you the default output :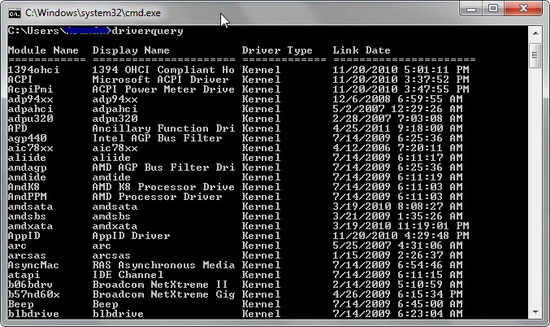 To get verbose output you can use the /v parameter :
    driverquery /v
Or to output in list or csv format instead of the default table format, you can use the /FO switch
    driverquery /FO [list, table, csv]
So for instance, if you ran the following command to give you verbose information in list format :
    driverquery /FO list /v
You should see output similar to this :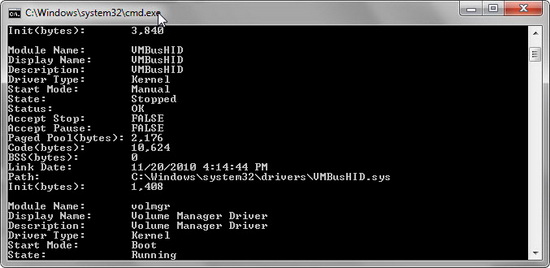 If you have cygwin installed you could pipe this through grep, but you should be able to pipe the output into a file, for instance like this:
    driveryquery > test.txt
This way, you won't need to use any other software or program to look at the drivers installed, and for you who want to backup your driver installed on your computer just to be caution if you lost your Driver CD, you can use one of the best free program which is DriverBackup! to backup the drivers on your PC. By using free software DriverBackup you don't need to worry if one day you reinstall your computer or lost your CD Driver because with  DriverBackup software, you can also restore all the drivers which have been backup.