How to track your Android smartphone
Weather you want to track your own Android smartphone or that owned by another person, you will be glad to know that there are a number of apps available in the Google Play store that can accomplish this seemingly daunting task, and this without reaching out to a carrier or the police. Don't worry, it's not hard to track an Android smartphone, especially once you are granted access to the respective smartphone. All you need to to is follow one of the two ways of tracking a GPS-enabled Android device that we are about to cover.

But before we dive in the methods themselves, lets take the time to analyze what could be the reasons why you would want to track an Android smartphone:
a) You want to make sure that you can track your smartphone in case you misplace it. This scenario is quite self explanatory.
b) You want to be able to track your Android smartphone in case it gets stolen. In this scenario you might also want to take security measures so that your personal data doesn't fall in the wrong hands.
c) You want to track the location of your kids. Since most kids are completely addicted to their smartphones, they are likely never too far away from where their smartphone is. Worried that your kid is skipping school or is being dishonest about his location? Well, you can put their truthfulness to the test by applying one of the following methods for tracking an Android smartphone.
Warning: Tracking an Android smartphone without being previously granted permission from the owner of the respective smartphone is not only immoral, but also represents a serious offense judging by the laws in most countries.
In addition, you should also be aware that only a few of these apps can be installed after you lose the phone, meaning that you should install the tracking app of choice as soon as possible in order to be well prepared in case you lose your Android device.
Where's My Droid
Where's My Droid is perhaps the best tracking app available in the Google Play store. Where's My Droid can obtain the GPS coordinates from the Android smartphone in question (the app will also try to turn on the GPS chip in case it is turned off, but it is obviously better for the GSP module to be already activated), but can also make your phone ring and even increase the ringer's volume. Where's My Droid is available in both free and paid versions.
Here's how to track your Android smartphone using Where's My Droid:
First you have to install Where's My Droid on your smartphone. Here's the free download link from the Play Store.
Next, choose two attention words: one for the GPS tracking and one for the phone ringing feature. These safe words will be used to communicate with your Android smartphone in case you lose it.
Once these attention words are set, enter the "GPS Setup" screen and choose the information you want to receive from the smartphone. In the original setup, Where's My Droid will send three messages: one with the Latitude, Longitude, Speed, Bearing and Accuracy, one with a Google Maps Link, and one with the nearest street address.
Once you're done with the GPS Setup, enter the "Ring Setup" screen, where you'll be able to modify the way your smartphone rings when using this feature of Where's My Droid. It is here where you can choose to activate the camera flash or use a white noise siren instead of your standard ringtone.
Once you have customized the way Where's My Droid tracks and communicates with your Android smartphone, you'll probably want to go into the Security Settings panel, and then choose White/Black list. Here you should enter the phone numbers that can track your smartphone.
If you want, you can also set Where's My Droid in safe mode, meaning that text messages containing the attention words will be hidden. To do this, enter the Advanced Menu, then check the "Stealth Mode" option.
Now all you need to do is send a text message with the attention word of your preference (if a white list is enabled, you'll need to do this from a phone number that is listed there). To track your Android smartphone via GPS, send a text message with the GPS attention word (by default, this is "WMD GPS"). To make your phone ring, send a text message with the Ring attention word (by default, this is "WMD Ring").
The paid edition ($3.99 for a life time of tracking) Where's My Droid includes some very interesting additional features, such as the ability to take pictures with the device front/back cameras (this pic will be uploaded to Where's My Droid servers and you'll be send a link to the picture), the ability to remotely lock the device or wipe the SD card slot and the phone data. Wiping your data could be very important in case you have sensitive information stored on your Android smartphone.
After using Where's My Droid, you'll probably have little need to search for alternatives. However, this app will not be able to track your Android phone unless you have installed and have it properly set up on a previous occasion. Fortunately, another tracking app available in the Google Play Store can help you in this unfortunate conditions:
Plan B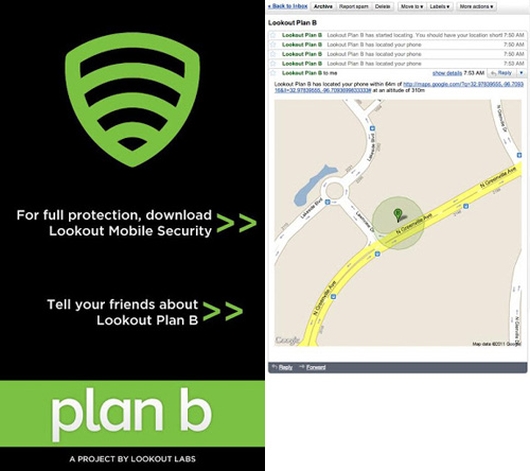 Plan B is an app with a name that's quite self explanatory in the context of this article. The main advantage of using Plan B to locate your Android phone is that it starts tracking the phone once it is has been installed, and fortunately this can be done from the Play Store (here's the free download link) even if you do not have direct access to your smartphone (aka you have lost it). According to the developers, Plan B can turn GPS on for a limited number of devices only.
Once the app was installed, Plan B will send you emails with detailed location information, and will keep sending email updates for the next 10 minutes. To start the process again, all you have to do is send a text message to your Android phone (from any phone number) containing the word "locate".
Conclusion
So there you go, these are the two best apps/methods for tracking an Android phone. Unfortunate, using these apps does not guarantee that you will find your Android smartphone, as both apps can have errors with turning on the location access. In addition, if your smartphone is indoors, you can have a tough time tracking its location. However, the major inconvenience is that any thief can perform a full factory reset and thus erase all your tracking apps.
What do you guys think? Which one of these apps is better for tracking your Android smartphone? Is there an alternative method that you know of that's better than the two described above? Let us know in the comment section below!