How to Disable Facebook Timeline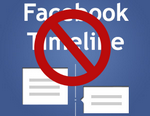 Lot of Facebook users don't like the Facebook Timeline and looking for ways to change the Facebook interface into the old one. there are lots of reasons why people didn't like the features of Facebook Timeline, such as it seems that it's too complicated, not getting used to it, already comfortable with the old interface, and the loading seems to be longer and more heavy. Because of those reasons they want to change it into the old Facebook interface.
So for you who wanted to deactivate the Facebook Timeline interface can use an add-ons "Timeline Remover" this add-ons works on some browsers such as Chrome, Firefox, Safari, and Internet Explorer. with "Timeline Remover" you can get your old classical Facebook back.
Basically the add-ons "Timeline Remover" hides the Facebook Timeline feature for the users, so you can see your own profile and others profile in the old interface. So it does not deactivate Facebook Timeline permanently, other people who doesn't use this extension will still be able to see your Facebook profile in the Timeline interface. You also can disable this add-ons if you want to back to your Facebook Timeline.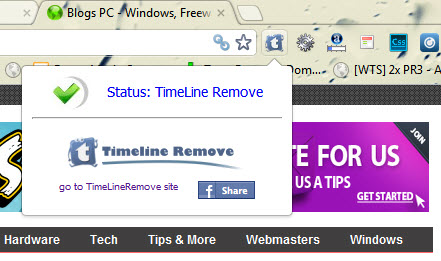 If you install the add-ons on Chrome browser such as the picture above, it will be seen as a small icon appeared on the leftmost side, by clicking the icon, you can enable and disable Facebook Timeline easily
Visit : www.timelineremove.com
Note : For you who love Facebook Timeline you can do some experiment by making interesting cover picture for your Facebook Timeline. Follow the instruction of make the Facebook Timeline to be interesting on my post here : Create a Facebook Timeline Cover
how to deactivate facebook timeline, how to disable facebook timeline, deactivate facebook timeline, how to deactivate facebook timeline permanently, timeline remover for safari