How To Connect and Update Twitter Status via Facebook

Now, the 750 million users social network which is Twitter, is allowing their users to update their Twitter account status over / via Facebook, as the cooperation of Facebook and Twitter established.
To integrate Facebook and Twitter accounts, Facebook user just have to visit this address: www.facebook.com/twitter. by doing so, Facebook users will automatically update their Twitter status as they update their Facebook status.
Many people thinks that this cooperation between Facebook and Twitter will lead to advantages for both, regarding the Facebook users who is not very frequent access their Twitter account. Unfortunately, this feature is only available for Facebook Fans Page, not the regular account.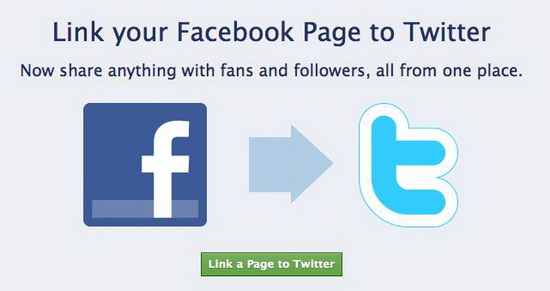 To integrate Facebook Fans Page with your Twitter, just follow this steps (tutorials) :
Login to your Facebook account
Visit

www.facebook.com/twitter
A list of fan pages that you admin will appear.  Click "Link to Twitter" next to the fan page you want to connect to a Twitter account.
A new window will appear asking you to confirm your Twitter username and password
Fill in your Username and Password for the Twitter account you want to link to and click "Allow"
After clicking "Allow", you will be redirected back to the Facebook Platform
After you're redirected back to FB, choose which items you want to automatically share from your fan page to your Twitter account and click "Save Changes"
Finally, click "Save Changes" to confirm your settings after selecting which items you wish to share.
Well, the development of the social network is getting more interesting, isn't it? Will this cooperation beats Google+? What do you think?