Helium Music Manager – Complete and Full of Feature Music Player

With Helium Music Manager, it will be easier for you to take control of your music collections, so you won't spend much time searching for file on your computer, CD, or record album. Doing Rip, search, play, tag edit, and Burn your favorite music to CD  will be easier using Helium Music Manager, and there're still much more other features.
This program is easy to use; you can start exploring your music collection directly. Helium Music Manager has all function that you need to enjoy and organize  MP3, CD and vinyls – and all of it integrated in one application. Helium Music Manager is not just one of your alternative music player software, but also give something more than other similar software.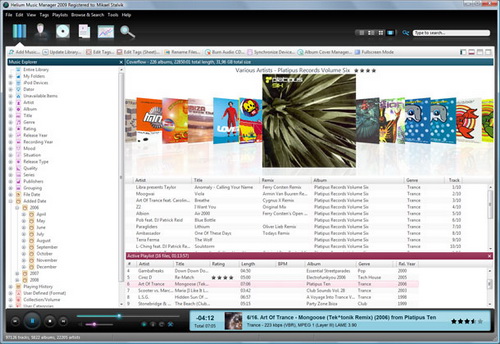 Helium Music Manager supports all common file formats, Audio CD's as well as other media such as vinyl records and music cassettes.
MP2, MP3 (constant and variable bitrate)
MP4, M4P and M4B
Ogg Vorbis
Windows Media Audio
FLAC
APE
Audio CD
Other media (vinyl records and music cassettes etc)
It's not a music manager, tag editor, cd ripper, audio converter, mp3 analyzer, duplicate finder, cd burner, player or scrobbler. It's a little bit of everything. It's also free. And intuitive. Get more from your music collection. Get Helium Music Manager.
Helium Music Manager – Key features :
Edit artist, album and track information

by manually typing, by reading information from the filenames or by downloading information from Internet sources.
Automatically rename files and create folder structures based on the track information
Create and print reports
Add, update and download album pictures

Burn Audio CD's

Create and manage playlists and smart playlists
Analyze the quality of MP3 files and repair files with problems
To use this software, before make sure your Computer already have .NET Framework installed