Google Introduces Free Domestic Calling in Gmail
Google's integration of VoIP calling for users of the Gmail service was originally assumed to be a temporary freebie which would eventually cost users money. However, in the run up to Christmas 2011 the search giant confirmed that it would be allowing users in the US to make domestic calls free of charge for a further 12 months. This is good news for those who want to cut the costs of their phone bill and use their broadband internet service providers to chat with friends and family.
As with all good VoIP services, you can use Gmail's calling capabilities to tap into any landline or mobile telephone number across the globe. You also have the option to make free unlimited calls to other Gmail customers straight to their computer. Google first integrated voice calls into Gmail back in 2010 and it seems that it is going to retain its generous offer of free calls for North American users right up until the end of 2012.
Google has been taking on other major VoIP services such as Skype over the past year. By making calls to landlines in the US and Canada free it is definitely offering something that other companies will have a tough time matching. In 2011 it also started an initiative which would allow servicemen and women stationed overseas to make free calls home to loved ones via Gmail, showing its support for the armed forces and scoring some positive PR in the process.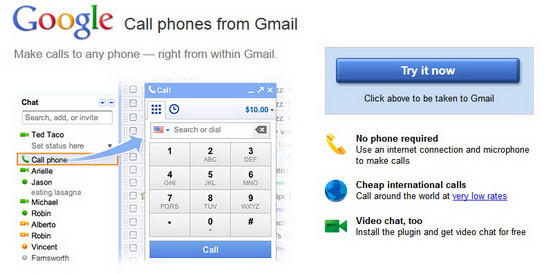 There has been considerable debate as to which of the top VoIP companies is able to deliver the best audio quality. While it may be partially dependent on the speed of your connection from internet service providers, this is becoming less of a bottleneck as broadband speeds increase and prices fall. Call quality has often been raised as an issued with VoIP providers. In various professional tests, both Google and Skype appear to be close. The former has been cited as being slightly better when it comes to voice clarity while the latter is better at filtering out ambient sounds, particularly when you are chatting on a headset microphone.
By announcing that free landline calls would continue into 2012 just prior to the Christmas period Google is succeeding in drawing attention to its VoIP service from within Gmail. The search giant hopes that this will motivate more users to sign up for an email account as a result. It will also make it particularly easy for family and friends to call one another during the festive period, removing concerns about running up huge telephone bills.
One of the benefits of having an account with Google is that most of its services are combined. This means that you do not need to sign in to multiple different sites and applications. Once you are logged onto Gmail you can send messages, use the VoIP service to make domestic landline calls free of charge, update your Google+ social networking profile, upload a video to YouTube, edit a file using Google Docs or plan your route using Maps.
Providing free of charge functionality subsidised by ad revenue has long been part of Google's operating ethos and the extension of its free VoIP calling from within Gmail certainly fits this model. All you need to do now is log in and get chatting.
About the Author : Shirley Jones is a freelance content writer and she writes articles and blogs on Internet service providers and other internet service related technologies.