Google Goggles for Android – Application that Makes Your Android's Camera Become Smarter
Google Goggle is one of the smartest applications for Android, with only the camera on your Android device you can search and have relevant results between your picture and Google's server. Goggles will analyze your phone camera's picture, and this application will let you know whether the photo is containing items that Goggles recognized.
Goggles now is updated into 1.6 version for Android. The new version of this application has improved the camera's function on Android device. It will make the lens capability become smarter, and it brings Goggles functionalities right into the camera by scanning and analyzing (works on background) the pictures or photos taken from the camera.
I'm sure that Goggles is going to make you realized that your Android smart phone is literally smart. Let's say that you are taking picture of an object like paintings, locations, business card, or anything you like, and Goggles automatically will help you out with relevant search results. Even more, when you are taking a picture of a business card with a phone number on it, then you can make a call to the number, at the time.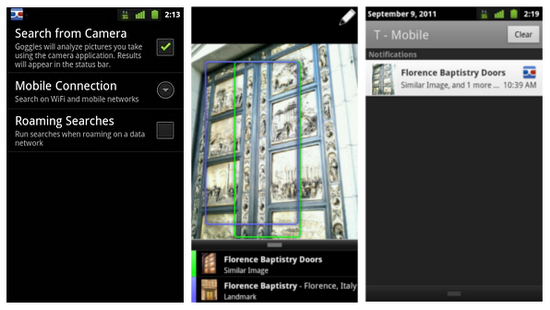 But, if the picture you've taken is not containing any relevant information, still you can share the information about the object by your search history. Goggles can also recognize English, French, Italian, German and Spanish words and allow you to translate to other languages.
Let's stop talking and just watch this video, see what cool features you can get on your Android phone by using Google Goggles application.
Google Goggles Features :
Scan barcodes and QR codes
Recognize famous landmarks
Translate by taking a picture of foreign language text
Add Contacts by scanning business cards or QR codes
Scan text using Optical Character Recognition
Recognize paintings, books, dvd, cds, and just about any 2D image
Solve Sudoku puzzles
Google Goggles 1.6 is available for Android 2.1 and newer devices. Google Goggles is available free at Android Market