fTalk – A Facebook Chat Client for Desktop
fTalk is a third party facebook chat application for windows. By using this fTalk (Facebook Chat Client), you can directly chat with your facebook friends from your Desktop without opening and logging in to Facebook site on the browser. With simple and attractive interface, fTalk will make your chat become more comfortable rather than to chat on the browser, moreover with the recent facebook chat interface that confuses the users.
Looked from the interface appearance, I think that this fTalk application adopted some MSN Messenger views. fTalk has cool features for such a chat application. fTalk will give a notification when there is one of your facebook friends is online, and you can use smiley icons like Yahoo Messenger's smiley. You can also update your status directly from this application. 
fTalk is a Simple, Free Desktop Facebook Chat Client :
Faster and more accessible than Facebook chat
No need to open Facebook
Get notified when friends come online
Update your status right from the app
Free and easy to use
 Cool emoticons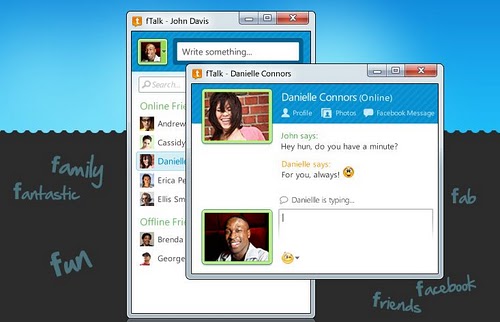 fTalk may not have a lot of fancy features, but it serves as a lightweight Facebook chat client with a clean interface. During testing, fTalk had a memory stamp of approximately 36MB. fTalk works on Windows XP, Windows Vista and Windows 7.