Friendly Facebook – Facebook App For Your iPad
The Friendly App allows you to naturally access your news feed, messages, notifications, events, wall and photos through the app. However, a few features such as Games, Apps and Privacy Settings are accessed through an in-app browser. By using this program, you will get different experience when playing at facebook.

Friendly offers customizable interface features for you to customize the interface's skin color, font size and appearance. Friendly is a solid alternative for users who hate accessing the social network through the browser. But in comparison, there's no clear cut winner for Friendly App vs. Facebook on Safari. Friendly is after all an app, but in terms of usability and features – the app and the site are similar. Whether you use Safari or Friendly rests solely on your preference.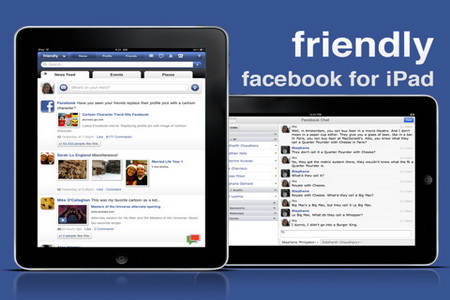 There's no official Facebook app on iPad, so you'll have to make do with either the website or an unofficial app. Friendly Facebook is the unofficial Facebook app to get though as it has all things you might use on Facebook: photos, chat, feed, pokes, and whatever else you book the face for. You can have this program by free
Facebook for your iPad :
Swipe through your feed and Facebook photos full screen

Chat with your online friends

Upload/Download Photos

Customize colors and fonts to your liking

Easy switch between multiple Facebook accounts

Secure your Facebook Account with a PIN Code access
Notes :
Facebook® and the Facebook logo are trademarks of Facebook Inc.

Friendly is not affiliated with, endorsed, or sponsored by Facebook
Download : Friendly Facebook for iPad
facebook for ipad 2 download, free download facebook for ipad 2, download facebook for iPad 2, free download facebook for ipad, facebook for ipad free download, free facebook download for ipad 2, free facebook download for ipad, facebook for ipad 2 free download, download facebook for ipad, download facebook chat for ipad 2 free