Free USB Disk Security 2012 – USB Drive Security Application
You better be careful when you are using USB Drive, since USB Drive is one of the common media to infects PC using Autorun virus. But don't be worry, you can use "Free USB Disk Security 2012" application to protect your PC from evil threats that may contained in the USB Drive.
With an eye-catching and user-friendly interface, this application provides a 100% security from every malware and virus threats on the USB Drive/Flash Drive. This application also has an additional tool to fix the USB Drive system. The app runs from the system tray and notifies you of any threats. There is also set of tools for repairing your PC and this includes disk clean up, repairing registry, start up items and safe mode.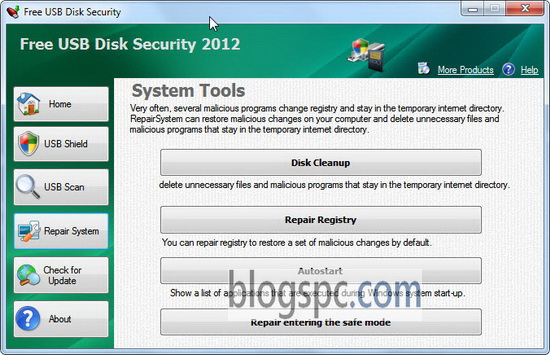 The application is compatible with Windows 7/Vista/ 2003/ XP/2000. Free USB Disk Security 2012 can be downloaded for free on this link :