Free Application of Estimate World Weather Information
Myfreeweather is an application of information provider about the weather in certain places around the world. Moreover, this application gives weather prediction for 5 days ahead, complete with estimates of temperature, direction and wind, including the visibility.
To anticipate bad weather, you can also get information about hurricane and rain intensity that is shown by a thermometer that located on the upper left of this application. For you who like traveling, this application can be used to see date, time, and time of sunrise and sunset in your location.
Information that presented by this application are data which synchronized with www.weather.com. If you want to know more about the weather that happen around the world, you just need to click "the weather channel" button which is placed on the upper left corner of this application.
You can free download this application in www.myfreeweather.net. This utility can run in Windows 1998, XP,  Vista, and Windows 7 without constraints. However, there is one thing that you should note when you use this application : you have to make sure that your internet connection is in a good term.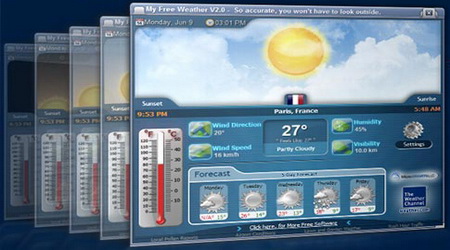 This application has been proven to give sufficient information for the weather. For you who like traveling, this application will help you to plan your travel activities more carefully. Another appeal is this little program available for free with fairly complete information.
View the current sky for any city around the world. (Zoom in on Maui, HollyWood, Chicago, etc)

Know the current local time and date for any location worldwide. (Great for Travelers)

Be alerted to Severe Weather Conditions.

Plan your entire week with our daily and detailed forecasts.

Includes atmosphere conditions: Wind Direction, Wind Speed, Humidity and Visibility.

View weather patterns & moving storms (Satellite Radar Map) via clicking on the Weather Channel button.

Quicker access to your local weather via our mini weather display near your computer clock.

My Free Weather is unlike any other weather program and best of all, it's free.

Download My Free Weather now and view the skies of the world without leaving your computer desk.
Download : My Free Weather