Free Alternative for WinZip, 7Zip and WinRAR – Hamster ZIP Archiver

Here is a free application to compress data which is easy to use and it comes with a great visual appearance. Hamstersoft Zip Archiver supports many data compression formats such as ZIP, Rar, 7z, tar, etc. The interesting part of this application is that its easy and practical to use, you can simply drag a data or a file into the application to be compressed.
Even though this is a free application but it still has a complete feature. Not only can you compress data, but you also can divide and choose data. And if you want to lock your compressed data, you can create a password in the file using the HamsterSoft ZIP Archiver.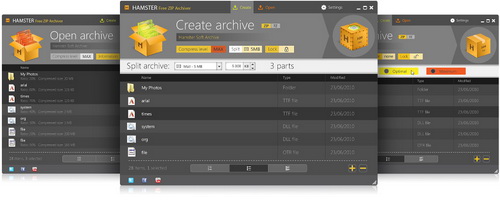 Why use Hamster Free ZIP Archiver :
100% free of charge for home and office – with no restrictions!

Supports all popular compression formats ZIP, Rar, 7z etc.

Special functions (preset) for e-mail, RapidShare, CD, DVD, and others

Tested on 1,000,000 hamsters, none of whom were harmed!

Easy-to-use! Drag-n-Drop! It does not require special knowledge. There is Wizard for beginners.

Integrates into Windows! Windows 7/Vista/XP compatible!

Supports 40 languages (English, French, Spanish, German, Japan, Russian, Portuguese, Chinese, Arabic, Korean, etc.)
Download : HamsterSoft ZIP Archiver
winzip alternative