Firefox Mobile Browser for Android

Firefox as one of the most popular browser, now also available for Android. Browser which have codename as "Fennec" have interface just like the desktop version. Not just interface, but the function and feature of this Firefox Mobile also can match the performance of the desktop version. The features that can be found in the desktop version, can also be found in the Android version
In the Android Firefox, you can also find add-on which you can install, even not all add-ons on desktop version can be installed, but add-ons which profided for Android version is the famous one, Personas feature to costumize the interface also existed in the Android version.
On this mobile version we can also find technology "Jaeger Monkey Javascript Enggine" and also HTML5. So Android users can use the mobile version of Firefox (Fennec) on your smartphone if you want to surf and explore web faster on your android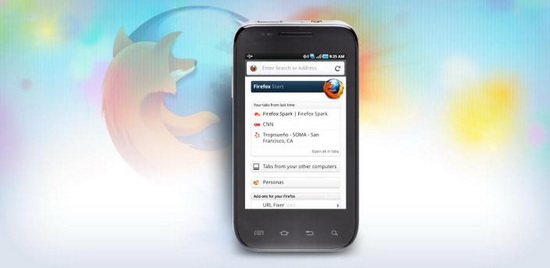 Firefox Mobile Browser for android Features :
Awesome Screen
 : Browse your favorite sites with minimal or no typing.
Sync
: Access your browser history, bookmarks, passwords and open tabs from any device.
Add-ons : Customize your browser quickly and easily.
Speed : Get to the Web and find what you're looking for fast.
Tabs : Enjoy the convenience of tabbed browsing on the go.
Personas : Dress up your browser the way you like it.
Sharing : Use apps like Google, Twitter and Facebook to keep your friends in the loop.
Location-Aware Browsing ; Get better, more relevant information when on the go.
Bookmarking : Swipe to the left and bookmark any site with one touch.
Mozilla Firefox for Android is available free at Android Market