Mozilla just released Firefox 7.0.1 – an update for Windows, Mac and Linux. Mozilla Firefox provides a speedy Web browsing experience for users and new tools to help developers create faster websites and Web apps.
In terms of Firefox 7 display there is no change from the previous release of Firefox 6. But in terms of capability it has increased a lot better than its previous version
Firefox 7 aims to enhance your browsing experience by improving one of its major drawback, i.e. high memory consumption. The latest and new Firefox 7 drastically improves the usage of memory (RAM) and is said to consume 20-30% less memory than former builds of Firefox browser.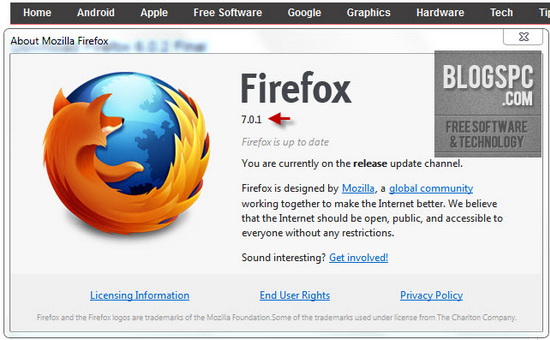 What's New in Firefox 7 :
The latest version of Firefox has the following changes :
Drastically improved memory handling for certain use cases
Added a new rendering backend to speed up Canvas operations on Windows systems
Bookmark and password changes now sync almost instantly when using Firefox Sync
The 'http://' URL prefix is now hidden by default
Added support for text-overflow: ellipsis
Added support for the Web Timing specification
Enhanced support for MathML
The WebSocket protocol has been updated from version 7 to version 8
Added an opt-in system for users to send performance data back to Mozilla to improve future versions of Firefox
Fixed several stability issues
Fixed several security issues
Mozilla Firefox 7.0.1 is available now for Windows, Linux, Mac and Android platforms. Mozilla Firefox 7 can be downloaded from the following link [Offline Installer – Direct Link]