FileMinimizer Pictures 3.0 – Free Compression Software for Your Images
Now days a social networking is growing and getting popular. We can says, Facebook, Twitter, and the newest Google+. Most of people are more addicted. Including one of my friend. I just received a called from my friend, he asking how to reduce size of pictures. As a Facebook addictive, he always updating his Facebook's account with new share and pictures.
In this time I recommenced him to use FileMinimizer Picture. This is one of the greatest picture minimizer that I've been used for this last 2 years. According to Balesio AG,  the company who produced this tools, FILEminimizer Pictures 3.0 is distributed as a free full version! It's great news for us
FILEminimizer Pictures 3.0 now offers an integrated upload button to Facebook. It allows Facebook users to directly upload optimized photos to their account saving them a lot of valuable time. The software supports batch optimizations to optimize whole photo albums at once and features a powerful search wizard as well and supports images in the formats JPEG, GIF, TIFF, BMP, PNG and EMF.
The program has a multilingual interface and is offered in English, German, French, Italian and Spanish. FILEminimizer Pictures 3.0 optimizes digital photos and images and achieves file size reductions by up to 98% without zipping. The said, a JPEG photo with a size of 5 MB can be reduced to only 0.1MB.

FILE Minimizer Pictures Features :
JPEG file compression by up to 98% – reduce your JPEG files from 5MB to 0.1MB in size

Also compresses BMP, GIF, TIFF, PNG and EMF images and pictures

Keeps the original file format – simply edit, view and change it without the need to unzip

Compress whole digital photo albums and galleries at once using a batch process

Choose the most adequate compression level from 4 different options

Facebook integration compress your photos and upload them directly to Facebook

Integrated search function finds all optimizable image files on the PC

"Drag & Drop" files directly into FILEminimizer Pictures to optimize several files at once

Fully compatible with Windows 7
I tried to minimize some pictures :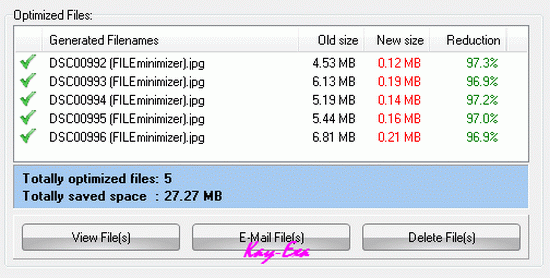 As you can see above, my pictures size between 4 MB up to 7MB and this tool can minimize more than 97%! With this size you will be very easy to upload to your social networking or any websites! Enjoy this free release.