DriverBackup! – Easily Create a Backup Copy of Windows Drivers

Driver is one of the computer components which are really important because the computers performance will not be maximize without the right driver. Even though usually driver for computer/notebook is already included in the CD, but it's not unusual that we have to update to make it up-to-date, because an up-to-date driver can fix and increase the computer performances. Because of that, it's really important for use to backup the available driver.
When we have driver in form of an application (installer), maybe we don't need backup, because when we have problem and need to be reinstalled, we can directly install that driver. Problem happened when the installed driver is the result of an update or automatic install from the internet (online), like from windows update and it's happening a lot especially laptop (notebook) or netbook users.
The backup the driver available in the windows, you can use free software (open source), DriverBackup. DriverBackup! Is free software which used to backup and restore the drivers available on our computer. Other than the good ability to handle drivers on Windows, this application also have a small size(on zip it's only around 445KB) and also portable, so you won't need to do installation to run it.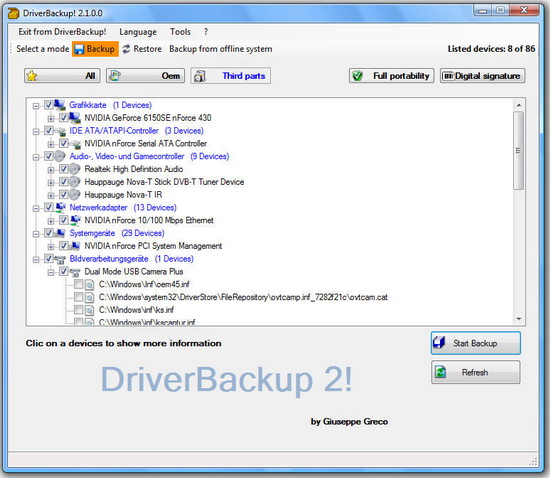 Here are some key features of "DriverBackup!" :
Backup & restore of windows drivers

Drivers' backup from offline or non-booting system
Unknown device recognition
Command line switches with integrated command line builder
Automatic generation of autorun files for drivers' restoration
Compatible with 64 bit systems
No installation required
The usage of DriverBackup!
When run, Driver Backup 2 wills automatically does scan on the drivers attached on our computer system. The result will be shown based on hardware category which available on our Windows OS and some menu provided with explanation like this :
Under the main menu, we have Select Mode with 3 menus :
Backup (to backup driver)
Restore (restore driver from backup data), here we can choose as much as we want
Backup from offline system, to do backup from media, for example external hard disk or even other computers hard disk connected on our computer with operating system (Windows NT/2000/XP/Vista/7). To do this, click and fill the location of windows folder in the shown form, for example : G:\Windows
Menu under select mode, we have 5 button with explanation as follows :
All, to backup all drivers (including the one attached to windows)
OEM, shows the one that used Microsoft drivers.
Third parts, shows third party drivers and this is what we need to backup
Digital signature, shows driver that include digital signature (WHQL)
Full portability, shows driver compatible with backup and restore
After choosing the option that we want, click "Start Backup" button, next it will shown option to pick the backup location (click browse), description, file name, date, etc. Then, click Start Backup button so start backup your driver
Other than backup, this application can also be used to restore driver that already been backup. Choose or click restore menu, and from the button below, click Open Backup File to open our backup driver. Next we can choose which drivers that we want to backup by clicking Restore
Do you have a tool you use or another method of backing up your drivers ? If you do, please share them with us in the comments !