Download High Quality Themes for Windows 7 – W7 Theme Manager
Windows 7 Theme Manager is an amazing free program for Windows 7. With this program you can access to 100 or more high quality themes for Windows 7 directly from your desktop. You can browse all the themes and install it easily. To further make it easier for the users, every theme is categorized.
The theme collection for Windows 7 will always be updated via internet everytime you run this program. The installation  process is also easy only with a simple click it will be attached to your desktop automatically. Each theme that is installed will also be categorized or easy managing and deleting.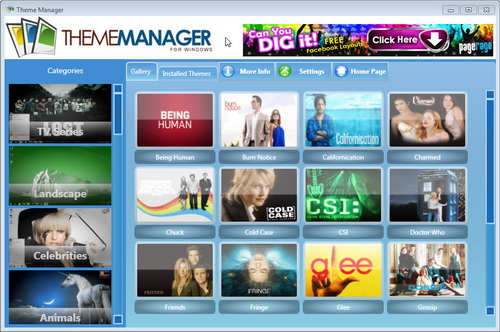 The theme manager provides you with these benefits :
Save time with our one click themes install. Any theme can be install with just one click.

Easy access to hundreds of professional quality themes

Easy management of themes via our intuitive GUI

Change your theme in just one click. No more clicking several buttons to get new theme. We do all the hard work for you by collecting and updating all the themes for you.

Delete one or more themes from your computer in just two easy clicks