doubleTwist 2.6 – Wirelessly Sync Media to Your Android phone
Android has lagged behind Nokia, Blackberry, Windows Mobile, and iPhone in terms of syncing, and Palm Pre owners have been left out of the syncing party since Apple broke Palm's syncing tricks with iTunes 9.0.0. doubleTwist, which is now T-Mobile's official media syncing software for Android phones, but it works with plenty of other phones as well.
When you first start start up doubleTwist, you will notice a distinct similarity to iTunes.   Anyone who's ever used iTunes or a program with a similiar feel won't have any trouble navigating. The service automatically pulls your existing playlist from iTunes and Window Media Player for easier syncing, or you can assign directories to search for media files.
To sync media to your phone, just drag specific songs, video, or images onto the device once it shows up in the app. Don't worry abput the format; as long as it isn't DRMed, doubleTwist will re-encode nusic or videos into the right size and bit rate for your phone. If you want to sync playlist to your phone, doubleTwist can do that, too.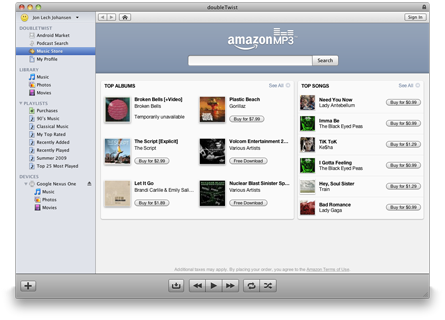 As a media player, however, doubleTwist will not replace iTunes any time soon. For music and movies, it can play all major formats, but the video and music player are substandard. And keep in mind that doubleTwist only syncs media, its not for syncing address book or calender. If you have an Android, BlackBerry, webOS, or Windows Mobile phone and want to use it for music, videos, or photo, doubleTwist is a must have app.
Visit : www.doubletwist.com/airsync