Comodo Internet Security PRO 2011 is an Anti Virus Program that offers security for your computer especially for active internet user's.  With the internet world expanding where almost everyone has their computer connected to the internet, an anti virus program is not enough but you must also have an "Internet Security" program.
With the Comodo Internet Security PRO 2011 you will have an Anti Virus and Internet Security program which can make your computer safe from viruses, Trojan, Adware, Spyware, Malware and other threats. This computer protection product is reliable, they even guarantee the customers with a slogan : "If we fail to protect your computer, we will replace the computer repair fee as to $500!"
What is interesting that is CIS PRO 2011 does not only guarantee's protection to their customers at detecting and prevention. They have the technology to identify a safe file or a dangerous file to be questioned. Comodo Internet Security Pro 2011 offers real-time protection on your computer.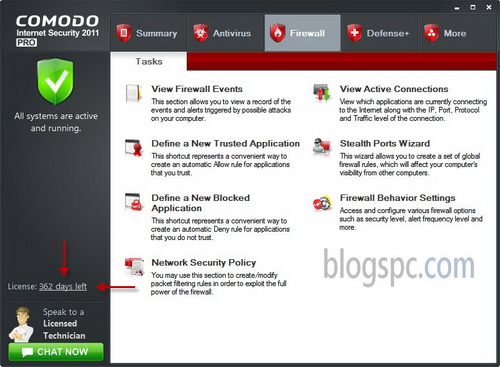 Comodo Internet Security Pro 2011 generally is sold at $49.99 for a 1 year usage on the official website. But, here you can download the CIS PRO 2011 for free and officially use it for 1 year.
All-in-One Protection Features :
Comodo Antivirus Cleans Malware

Comodo Firewall Protection

Defense+ Host Intrusion Protection

Auto Sandbox Technology™

Remote Security & System Support

$500 Virus-Free Guarantee*

$15,000 Identity Protection Coverage*
Download : Comodo Internet Security Pro 2011 for 1 Year