The new Apple iPad seems made for digital reading. Its vibrant color display and ease of use is very appealing and will create a new experience for reading comic books and graphic novels. Like other OS X applications the user interface looks very book-like, intuitive and appealing. 
Another huge plus is the iPad will push app creators to meet demand with a more modern, interactive reading experience as we have seen with Panelfly.
Panelfly Comics, IDW and comiXology have been busy working on new apps for the iPad. Panelfly showed images of their app at the iPad launch in January. The iPad is the perfect format for full-color digital comics with its screen size most the same size as print comics.

The popular Panelfly Comics iPhone app is being optimized for the iPad. This is exciting news for comic book lovers. Panelfly's "patent pending narrative navigation engine" allow you a great comic reading experience on the small iTouch and iPhone screens. The larger IPad screen should be further enhanced by Panelfly's UI. The larger screen will enable for the user to have an interactive comic book experience.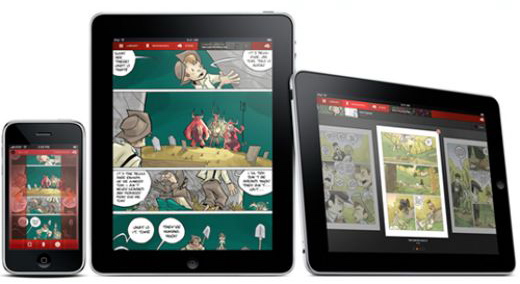 Panelfly titles include Marvel Comics titles such as Blade, Captain America, Amazing Spider-Man, Astonishing XMen, Ironman, X23 and Age of Apocalypse.
Panelfly is also looking at adding a subscription service, which should substantially increase the comic titles on offer. This would include titles outside the current in-app purchases through the Panelfly iPhone application. It is worth noting is Panelfly's Comic app will synchronized across all mobile devices. This means the same comic you bought through the Panelfly Comic iPhone app will be available on your iPad.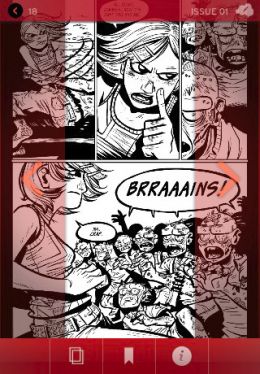 Comics' by comiXology iPad app
Another iPad app 'Comics' by comiXology has been shown on a concept video of how their app will look running on an iPad.  Just like reading a print, only digitally enhanced. Comic iPad app looks set to take full advantage of the larger iPad screen. Panelfly and IDW were first out with published images of their iPad comic apps.
Publishers on the Comics app include Marvel Comics (US only)
, Image Comics
, Red 5, and Zenescope. New publishers
 include A Wave Blue World
, AdHouse Books
, Arcana Comics
, Asylum Press
, Bluewater Comics
, BOOM! Studios
, Com.X
, Creative Impulse, Digital Webbing
, eigoMANGA
, Evil Twin Comics
, First Salvo
, AAM/Markosia
, Moonstone
, Slave Labor Graphics (SLG)
, Top Cow
 and Th3rd World Studios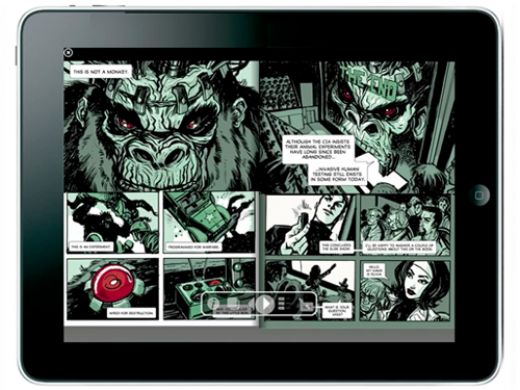 IDW iPad apps for comics
IDW Publishing apps, like the iPhone and iPod touch versions will offer customized panel-by-panel views to take advantage of the larger screen. IDW like Panelfly will have new features and presentation modes in the optimized iPad version.
IDW intends to have the new iPad-optimized versions from the IDW comics shop in addition to all of their apps available at iPad's launch.
IDW comic titles include American McGee's Grimm
, Astro Boy
, Bloom County
, CSI
, Dreamland Chronicles
, Danger Girl
, Family Circus
, FX
 G.I.Joe
, Ghost Whisperer: The Haunted, 
The Ghoul
, Grim Jack, 
Groom Lake, 
Igor, 
Jennifer Love Hewitt's Music Box
, Jon Sable: Freelance 
Locke and Key
, Love & Capes
, Nanovor
 Paranormal Activities, 
Rocketeer, 
Side Chicks, 
Star Trek, 
Tank Girl
, The Dreamer and Transformers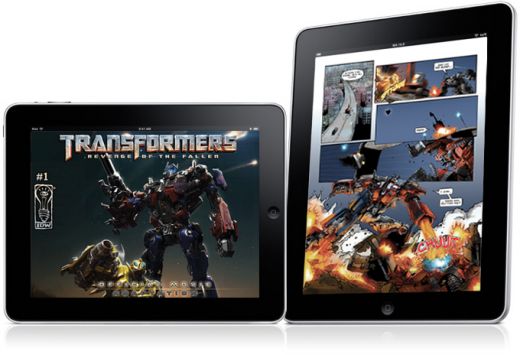 Comics and iPad digital expansion
These iPad-optimized versions of Panelfly, IDW and ComiXology should all be available in the iTunes App Store right when first Wi-Fi iPad hits in late March. Look for a huge expansion in digital comics with iPad. We saw a similar expansion with the iPhone comic apps so I would expect even more titles and sales with the iPad apps.
Print comic fans shouldn't dry doom and gloom for the print medium as IDW digital sales in 2009 were exponential and flowed onto their print volume expanding to the best level ever.
The power of the comic book marches on!
ipad comics