CCleaner 3.07.1457 – Freeware System Optimization
CCleaner is a free program that I think we should have in our computer. The size of the programs file is so small yet it has many superiority, advantage, and feature. Currently CCleaner has released its latest version which Version 3.07.1457. There are a few extra functions and capabilities in this new updated release.
This program works and is handy for cleaning our computer from all the un-used files, repairing the system registry and can also delete histories and cookies in all browsers, so your Windows will run faster and lighter, and efficiently gives you more hard disk space.

CCleaner itself is considered to be one a program that always increases its ability by often updating it. So for you who use this program, don't forget to update it. Blogspc.com will always give you new information about the latest updates from CCleaner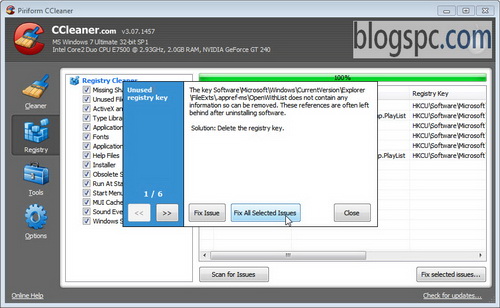 Release notes – v3.07.1457
Added

Flash Player

SOL setting file cleaning and management.

Added Safari Icon history cleaning.

Added cleaning for Windows Elevated Diagnostics.

Added cleaning for Kantaris Media Player, KMPlayer, Orbit Downloader, Pando and Snagit.

Improved cleaning for XFire, Real Player, Windows Log Files, Macromedia Shockwave 10 and 11.

Improved Google Chrome thumbnails and favicons cleaning.

Improved Google Chrome Saved Form Information cleaning.

Improved Google Chrome Save Passwords cleaning.

Improved Opera Last Download Location cleaning.

Improved Remote Desktop cleaning.

Improved Recent Documents cleaning.

Improved Exclusion functionality for Registry cleaning.

Improved Registry cleaning for Windows Services.

Improved Drive Wiper functionality and feedback.

Fixed bug in Cookie importing/exporting.

Minor translation fixes.
System Requirements :
Runs on Microsoft Windows 7, Vista, XP and 2000. Including both 32-bit and 64-bit versions.