Can't Login on Facebook, has Facebook been Down ?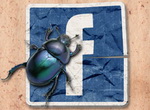 Yesterday when I was trying to login to my Facebook, I got an error message and unable to get into my account on Facebook. At first i didn't see an error notification so I thought i might be inserting the wrong password. And I tried again until 3 times, and finally I read clearly the error message shown and surprisingly there are maintenance on Facebook.
But Facebook didn't do the maintenance completely, because my friends beside me can smoothly access their Facebook accounts. After finding out and read clearly why I couldn't access my account on facebook, apparently my account is at the database which is at maintenance.
So if you right now or in the future couldn't access your Facebook account and get the notification "Facebook Will be Back Soon" or like the picture above, don't worry and no need to feel that your password is wrong or been taken by someone. Because it could be your account is at the database under maintenance by Facebook themselves.
facebook will be back soon