Best Twitter Client for Windows 7 – MetroTwit

MetroTwit is a third-party Twitter Application for Windows. MetroTwit has an elegant, attractive visual, complete features and it is a really innovative application. There are many features in the MetroTwit Application which will make you use Twitter comfortably.
And according to blogspc.com this application is a must for Twitter users to try to send their tweets and see other people's tweets through your desktop computer. By using MetroTwit you will be guaranteed in a new experience using Twitter.

With MetroTwit you still can do the Retweet with the old style. You also still can send a long tweet without any character limits because it is supported by a url shortener apps which is integrated automatically.
And if you want to upload a new picture from the computer just simply drag the picture into the MetroTwit, automatically it will be uploaded. You don't have to open a new tab using another browser if you want to watch a video from youtube.com or to look at an image from twitpic.com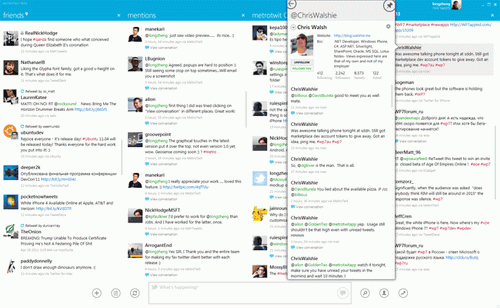 Features Include :
View complete conversations

TwitLonger to jump over the 140 character limit

Infinite scrolling of Tweets

Windows 7 Taskbar Intergration

Drag and Drop Image uploads

In-app media viewer for YouTube, TwitPic and more

URL shortening and preview

Customizable colors with themes

Rolling Notification with Excerpts

Resizable columns
MetroTwit is integrated with the Windows 7 taskbar, so all the new notifications will appear in the corner of your desktop. This feature does not disturb us and at the same time we can check our Twitter better.
Download : MetroTwit (.NET Framework 4.0 required.)
twitter app for windows 7, twitter for Windows 7, metrotwit offline installer, twitter app windows 7, twitter application for windows 7, blogspc com, twitter applications for windows 7, twitter apps for windows 7, twitter app for win7, facebook client for windows 8 metro programming