Auto Refresh Plus Extension for Google Chrome
Auto Refresh Plus is one of the Google Chrome Extension which can refresh every opened tab on the chrome browser automatically. With this extension, you don't need to click refresh button on your browser or pushing the F5 button on your keyboard to refresh a webpage on your browser. Auto Refresh Plus is suited to be used when you follow some online auction web, watching cricket or football match score online, waiting important mail on your email inbox page, or looking at the weather report online.
After you install Auto Refresh Plus extension, there will be a small icon on the address bar of the chrome browser. After you click on the button, there will be a menu to set the refresh time interval. After you set your time, you can click start button and automatically it will refresh the webpage of every tab which you want on your chrome browser.
Auto Refresh Plus is the easy way to automatically refresh every webpage on every tab on your Chrome Browser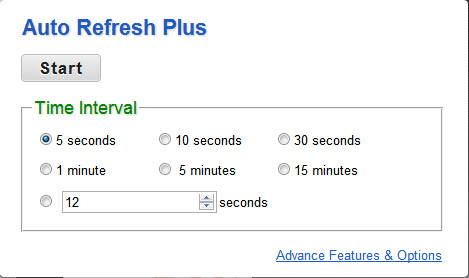 So with Auto Refresh Plus Extension on the Chrome Browser, you can save time and make it simpler to refresh website pages automatically compared to the manual process which you have to press the refresh button or F5 manually. By that when you follow and auction page online and looking ato the newest news feed will become easier and simpler.