ASK Toolbar Removal Tool – Remove Ask Toolbar from your PC
Ask.com is a search engine which is popular as Google and Bing. Ask.com has a toolbar for the browser where is generally found on third-party applications. Many internet users feel uncomfortable with the Ask Toolbar on their browser because it makes their browser window crowded, adding extra connection load and memory usage. You can use this simple tool to delete the Ask Toolbar from your PC.
The Ask Toolbar Remover works for the 4.0.x series, 4.1.x series, and OEM 1000 series ASK Toolbars. It is portable and weighs only 286 KB! Once uninstalled, it checks for "ask" in your IE homepage URL, and if founds sets your IE homepage to Google.com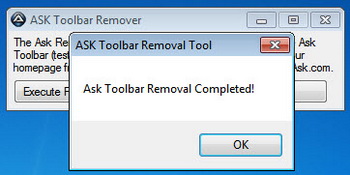 Tips for you : When installing a program don't forget to notice other tools in that program.
Download : ASK Toolbar Removal Tool
ask toolbar removal tool, desinstalar ask, como desinstalar ask