Advertisements in a lot of social network actually have its own charm, this shows from many activity from internet users which can't be apart from communication, they're using Facebook, Twitter, Google+, etc.
A market research for internet sites, eMarketer releases their research results on September last month about opinion of social network generally on 2011, the result actually around 5.54 billion dollar. Also, eMarketer estimate that the income can become higher at 2013 which will be around 24.2% or 9.99 billion dollar.
For social network which become a big contributor, Facebook and than Twitter, But what interesting based on eMarketer is that Linkedln also take part, which they can extract 3% of advertisement income in this 2011. This of course is a big leap for last couple years.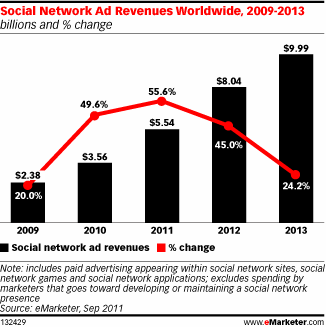 So, interested to invest marketing in social network ? Prepare your small asset with a free Twitter account, Facebook, and client which interested in your business.