6 Free Blackberry Applications for Healthcare
The existence of Smartphone these days is much more needed by society all around the world. Smartphone these days not only exist for communicational purpose only but also as a lifestyle to help your activity.
Blackberry is one of Smartphone which have a lot of users, other than Android and iPhone. Because of that we can also find lot of application developers that make interesting applications for Blackberry devices.
For Blackberry users, below listed some interesting and free application for Blackberry which can be useful for your health, these applications suited for doctors and you which love your health.
Here are some best Blackberry applications which suitable for health :
 1. My Personal Health Record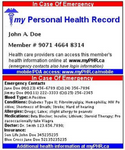 This program is used to organize your health information and all of your family effectively in one place. The member of your family can input their health data in this program so it can be seen by all the family member. This data can even be shared to your doctor for further evaluation. This program can be downloaded here
2. vClinic Mobile Health

For obesity person, this program is really good. vClinic Mobile Health will automatically control your calories burned while you do your activity like walking or jogging. If you want to save your data for a longer time, you have to register in this program by signed up freely. If not, you will lose your data after 7 days. Download the program here
3. Health Calculator

This application can be used to count the index of body mass, body fat, and waist to hip ratio. This application can also show the number of calories from fruits and vegetables. Download the application here
4. Ubiqi Health Migraine Tracker
Ubiqi Health Migraine Tracker is the easiest way and shortest way to follow migraine illness anytime, anywhere and it can help you to understand the pattern of when the migraine is coming and what is the trigger, so it undergo therapy more effectively, even the result can be printed on the computer. Download the program here
5. A Handbook of Health

This application is about the explanation of human body. It also comes with ebook reader with a comfortable facility such as multi bookmark, and multi ebook support, etc. download the application here
6. Digital Journal

Digital Journal will show article, blog, and picture from thousands of professional and journalist, bloggers, and freelance porters from more than 200 countries all over the world. You can share the article via facebook, twitter, and email with your friends. Download the application here